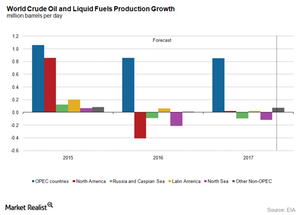 Will Russia and OPEC Join Hands and Cut Crude Oil Production?
By Gordon Kristopher

Nov. 20 2020, Updated 11:41 a.m. ET
Russia and OPEC depend on exports
Russia and OPEC (Organization of the Petroleum Exporting Countries) are key oil-exporting giants with their economies dependent on income generated through oil exports. The fall in oil prices has affected their revenues and has a ripple effect in their economies. OPEC started to raise oil production to record levels to drive away US shale oil producers, who have higher break-even costs and production costs. OPEC has been marginally successful in driving down the production of US shale producers. The EIA (U.S. Energy Information Administration) expects that US crude oil production will fall to 8.7 MMbpd (million barrels per day) in 2016 and to 8.5 MMbpd in 2017.
Article continues below advertisement
Possible alliance between Russia and OPEC
Some OPEC members like Venezuela want production cuts and an oil price ceiling. Non-OPEC member Oman is also in favor of this strategy. The vice president of Lukoil (a Russian oil company) has stated that Russia should ally with OPEC and stabilize the oil market. OPEC may be considering joining hands with Russia in collective production cuts to stabilize oil prices. Thus, we could see OPEC and non-OPEC nations could join hands for collective production cuts. Why?
First, lower oil prices are affecting the revenues and budgets of these economies. Secondly, they are affecting the operational sustainability of oil companies. Thirdly, the markets are dealing with fragile European, Asian, and Chinese economies and fear of lower oil demand.
The main hurdle to production cuts
Falling revenues from lower oil prices can only be offset by more oil production. Thus, a collective oil production cut may be unviable because of the tussle for market share at the individual level. Russia and OPEC can only hope that demand from China will benefit oil prices and that lower prices postpone Iran's plans to increase production. The improving car sales figures from India and China will be another key driver of oil demand.
Shale oil producers like Whiting Petroleum (WLL), Hess (HES), Noble Energy (NBL), EOG Resources (EOG), and Continental Resources (CLR) are working hard to bring down their break-even costs by improving productivity, planning more strategically, and optimizing resources. However, we could also see crude oil trade lower for the next two decades. Lower oil prices lead producers to reduce capital expenditures on new projects. Thus, we could eventually see a fall in production over the long term. The chart above shows slowing production from non-OPEC nations in 2016 and 2017. However, OPEC is confident about high production levels.
The volatility in the oil market affects ETFs like the United States Oil Fund (USO), the ProShares UltraShort Bloomberg Crude Oil ETF (SCO), and the Vanguard Energy ETF (VDE).
In the next part of this series, we'll explore the latest crude oil price forecasts.