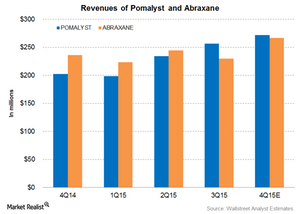 Pomalyst and Abraxane Revenues Are Critical for Celgene
Pomalyst revenues
Pomalyst and Abraxane are the next largest revenue generators for Celgene (CELG) after Revlimid. In the United States, Pomalyst is used to treat multiple myeloma patients who have gone through at least two prior therapies and have experienced a relapse of the disease on or within 60 days of the previous treatment. Revenue growth for Pomalyst and Abraxane is critical in order for Celgene to achieve its vision of a different product mix and revenues in excess of $20 billion by 2020.
The above graph reflects the historic revenues and estimated revenues for Pomalyst and Abraxane.
Article continues below advertisement
Pomalyst recorded 3Q15 revenue of $257 million, an increase of 42% on a year-over-year (or YoY) basis, excluding foreign exchange fluctuations. The US market recorded sales worth $150 million. Sales for the international market accounted for $107 million, an increase of 27% and 69%, respectively, on a YOY basis.
There was also growth across Europe and Japan. In Europe, Pomalyst received reimbursement approval for Italy. In Japan, after a successful launch, Pomalyst's share in the third-line multiple myeloma market has already exceeded 20%. Revenues for Pomalyst has been on a steady rise since 4Q14. Analysts estimate revenue in 4Q15 to be $271.8 million, surpassing revenue estimates for Abraxane.
Abraxane revenues
Abraxane is used for the treatment of breast cancer after failure of chemotherapy for metastatic disease or relapse within six months of adjuvant chemotherapy. Abraxane sales for 3Q15 stood at $230 million. However, in the United States, revenues were down by 4% with recorded sales of $145 million. The decrease was mainly due to increased competition in lung cancer and breast cancer treatment. To know more, you can read Celgene's Widespread Diversification Strategy.
International sales for Abraxane in 3Q15 were $85 million, a rise of 40% on a YoY basis. The increase was due to the launch of Abraxane in combination with gemcitabine in Europe for the treatment of pancreatic cancer. Celgene made a downward revision for Abraxane for 2015 in the range of $950 million to $1 billion. Its earlier range was $1 billion to $1.3 billion. Analysts estimate 4Q15 revenue for Abraxane to be $266.5 million.
The First Trust NYSE Arca Biotechnology ETF (FBT) has invested 3.1% of its portfolio in Celgene. The other top holdings of the fund are Biogen Idec (BIIB), Seattle Genetics (SGEN), and Myriad Genetics (MYGN) with weights of 3.6%, 3.3%, and 3.7%, respectively.