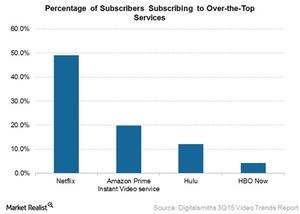 Why Media Networks Enter Amazon's Streaming Partners Program
By Shirley Pelts

Dec. 4 2020, Updated 10:53 a.m. ET
Pay-TV subscriber losses prompt media companies to go OTT
We looked at the reason behind the launch of Amazon's (AMZN) Streaming Partners Program in the previous part of this series. In this article, we will look at why the Streaming Partners Program is attractive to media networks like Starz and Showtime (CBS).
Currently, the pay-TV market in the US is in a transitional phase as major cable operators like Comcast (CMCSA) are losing subscribers, but at a lower rate. According to a FierceCable report, "the top nine cable operators only lost around 145,000 video customers in the third quarter."
The pay-TV subscriber losses have prompted many media companies to launch their own direct-to-consumer offering like HBO Now (TWX). However, OTT (over-the-top) services remain more popular than the direct-to-consumer offering.
According to a report from Digitalsmiths and as the chart above shows, Netflix (NFLX) is the most popular service, with 49% of OTT subscribers. Amazon ranks second to Netflix when it comes to subscribers for its streaming video (or OTT) service.
Article continues below advertisement
Why would media companies opt for Streaming Partners?
According to Amazon, its Streaming Partners Program offers media companies the following services:
"Driving all subscriber acquisition
Making subscribing friction-free—credit cards are already on file
Handling all customer service
Managing all billing
Managing credit card expirations
Serving your content through high-quality, reliable streaming infrastructure
Managing compatibility across hundreds of devices"
For premium media networks like Starz that have contemplated going OTT but have not yet done so, the Streaming Partners Program is more preferable. This is because Amazon takes care of all the infrastructure required for an OTT service such as billing and customer care operations. Amazon also provided the streaming infrastructure, which means that networks like Starz don't have to enter into a separate streaming agreement with content delivery networks (or CDNs).
There is also the possibility that media networks could gain more subscribers and earn more revenues in the process. Amazon is also offering free trial subscriptions for the OTT subscription streaming services in the program.
Amazon makes up 6.07% of the PowerShares QQQ Trust Series 1 ETF (QQQ). QQQ has a 4.4% exposure to the Television & Radio sector.