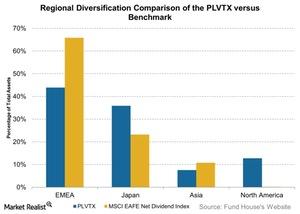 What's PLVBX's Investment Methodology?
By Ivan Kading

Nov. 20 2020, Updated 3:44 p.m. ET
Investment methodology
The PIMCO RAE Low Volatility Plus International Fund – Class A (PLVBX) is an alternative mutual fund that seeks to exceed the total return of its benchmark the MSCI EAFE Net Dividend Index. The fund primarily uses a combination of a low volatility based long or short derivative strategy and fixed "AR Bond Alpha Strategy"—an actively managed portfolio of fixed income securities with an absolute return orientation. The fund aims to generate a low volatility portfolio with the potential to generate high income. It's similar to PIMCO's own RAE Low Volatility Plus Emerging Fund – Class A (PLVVX) strategy-wise, but it has exposure to a portfolio of stocks that are economically tied to countries other than the US. In contrast, the latter is only focused on stocks from emerging market countries.
The above graph gives a regional portfolio allocation comparison of PLVBX versus its benchmark.
Article continues below advertisement
Regional diversification
Almost 44% of the fund's total assets are allocated to securities issued in the EMEA (Europe, the Middle East and Africa) region. More than 60% of the benchmark index is comprised of securities from the EMEA region. Japan, Asia-Pacific, and North America are other major regions where PLVBX is diversified. PLVBX has very negligible exposure to securities issued in the US unlike the S&P 500 Index (VFINX).
Mortgage-backed and asset-backed securities