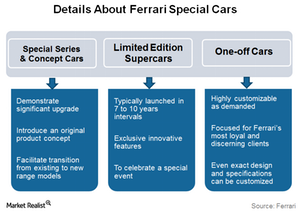 What's the Importance of Limited Edition Cars for Ferrari?
By Jitendra Parashar

Nov. 20 2020, Updated 3:40 p.m. ET
Special series and concept cars
Ferrari (RACE) often produces special series cars, targeted specifically at Ferrari collectors. These cars also play a crucial role from a commercial and product development angle as a way for the company to demonstrate technical upgrades through their special series and concept cars. Ferrari produces these special series in addition to regular sports and GT cars, as we discussed in the previous part of this article. The key purposes of these concept cars are as follows:
demonstrate significant hardware and software upgrades
introduce Ferrari's new and original product concepts
facilitate the transition from existing to new range models
Ferrari's 458 Speciale and 458 Speciale Aperta are two of the notable Ferrari special series car models.
Article continues below advertisement
A tradition of limited edition supercars
Ferrari has also been engaged in producing limited editions of supercars since the beginning of the company. Such cars are typically launched in seven-year to ten-year intervals. Ferrari's loyal clients and other motorsports enthusiasts await these limited edition cars. LaFerrari, a limited edition car launched in 2013, is an example of such cars. Notably, the company produced only 499 LaFerrari units.
In addition to limited edition cars, Ferrari also produces some very limited edition cars (Ferrari calls them "Fuoriserie") to celebrate a special event. The most recent car model in this category was in 2014 when Ferrari launched its F60 America to celebrate Ferrari's 60 years in North America. The company sold it in very limited numbers to US customers only. Ferrari's special series and limited edition cars are also priced higher than their range models. Therefore, they contribute more to the company's revenues and profitability.
Article continues below advertisement
Customized one-off cars
As discussed earlier, 35% of Ferrari car clients own more than one Ferrari car, which in part explains Ferrari's manufacturing of one-off cars. One thing that makes one-off cars different from others is that these cars can be completely customized as per client needs. These one-offs are the reflection of Ferrari's specific attention to its loyal customers. In other words, production of one-off vehicles helps Ferrari maintain relationships with automobile collectors. The time and effort required to produce one-off cars are immense for the company.
According to Ferrari's website, a famous example of a Ferrari one-off owner is "movie director Roberto Rossellini who presented his new bride, the Swedish actress Ingrid Bergman, with a Ferrari with a unique gilded grey livery that is now known in Maranello as Ingrid Grey."
Porsche (POAHF), which is owned by Volkswagen (VLKAY), Rolls-Royce (RYCEF), and Jaguar, which is owned by Tata Motors (TTM), are some of the other luxury automobile brands that offer customized one-off cars to consumers.
Note that Tata Motors (TTM) currently makes up 6.9% of the First Trust ISE Chindia Index Fund (FNI). The fund has 22.7% of its portfolio exposure in the consumer cyclical sector. The EGShares Dow Jones Emerging Markets Consumer Titans 30 ETF (ECON) also invests nearly 3.9% of its portfolio in Tata Motors.