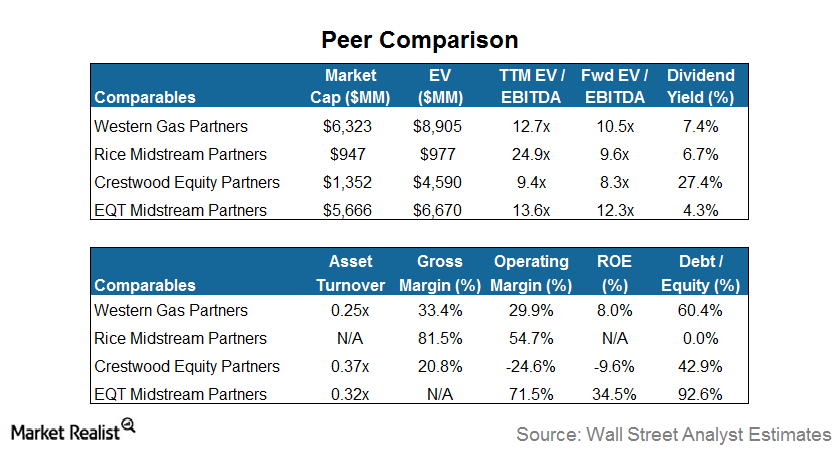 Where Does Western Gas Partners Stand Compared to Its Peers?
By Kurt Gallon

Nov. 20 2020, Updated 10:51 a.m. ET
WES's enterprise value
Western Gas Partners (WES) is the largest company in our peer group here by enterprise value (or EV). Currently, WES has an enterprise value of $8.9 billion. The enterprise value, which is approximately equal to market equity value plus the net debt (debt less cash), is an important metric for the valuation of the entire business. Equity value alone measures only value to equity holders. Rice Midstream Partners (RMP) has the lowest enterprise value among the selected peer group.
Article continues below advertisement
WES's forward EV-to-EBITDA multiple
Of the selected companies, Western Gas Partners' forward EV-to-EBITDA (earnings before interest, taxes, depreciation, and amortization) multiple of 10.5x is higher compared to the group average of 10.2x while Crestwood Equity Partners (CEQP) has the lowest multiple of 8.3x. EQT Midstream Partners (EQM) has the highest forward EV-to-EBITDA of 12.3x.
WES's operating margin                                      
Western Gas Partners is lagging behind its peers in terms of operating margin. Excluding Crestwood Equity Partners, WES has the lowest operating margin of 29.9% among the selected peer group. WES's lower operating margin can be attributed to its relatively higher operating expenses. For 3Q15, WES's total operating expenses were $291.7 million while operating revenues stood at $385.1 million. WES forms 0.62% of the PowerShares S&P International Developed Low Volatility Portfolio (IDLV).
WES's distribution yield
Western Gas Partners has a higher dividend yield compared to the selected peer group median of 7.0%. Low distribution yield indicates less riskiness and low cost of equity capital. Crestwood Equity Partners, which has the highest distribution yield in the group at 27.4%, is certainly an outlier in terms of distribution yield. CEQP's high distribution yield can be attributed to its stagnant distribution growth, declining throughput volumes, and high leverage. For an in-depth analysis of CEQP's recent operating and market performance, read Is Crestwood Equity Partners a Sinking Ship?