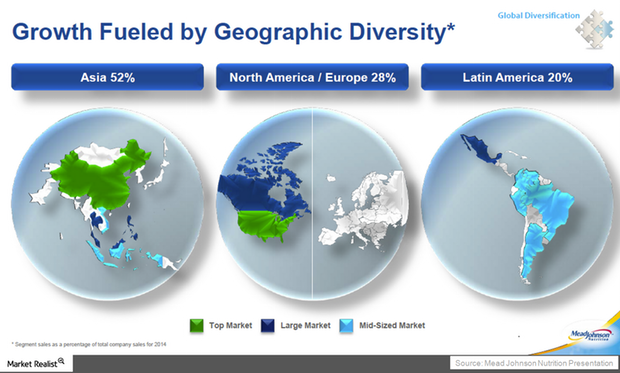 Weighing Mead Johnson's Strengths and Opportunities in 2016
By Diana Key

Jan. 30 2016, Updated 11:04 p.m. ET
Mead Johnson's high profitability
Mead Johnson Nutrition (MJN) reports the highest margins among its biggest peers in the pediatric nutrition industry (XLP), including Nestlé SA (NSRGY), Kraft Heinz Company (KHC), and Abbott Laboratories (ABT) (see Part 12 of the series). In fiscal 2014, which for Mead Johnson ended December 31, 2014, the company reported a gross margin of 61.4%, EBITDA (earnings before interest, tax, depreciation, and amortization) margin of 24.5%, and an operating margin of 22.4%.
Article continues below advertisement
Mead Johnson's presence in Asia
According to Research and Markets, Asian market accounts for one-third of the global pediatric nutrition market. In addition, Asia has become the fastest-growing region in infant nutrition, growing at an annual rate of approximately 19%, mainly driven by China, according to Zenith International. In China, particularly, mothers who exclusively breastfeed for six months account for less than 30%, as baby formula is considered a healthier option.
That said, Mead Johnson has a wide presence in Asia market, with 52% sales coming from Asia and 31.3% of the total sales coming from China in fiscal 2014, which for the company ended December 31, 2014.
Brand loyalty in the pediatric nutrition space
High product quality and high product safety are the top criteria for consumers when purchasing pediatric nutritionals. There is very low penetration of less expensive private labels in the category, as consumers are ready to pay higher prices for high-quality branded products.
Notably, Mead Johnson, which is known for its higher quality and responsible sourcing, has witnessed a high degree of brand loyalty and thereby higher margins for its offerings.
Article continues below advertisement
The US toddler market—not just child's play
Mead Johnson had a market share of only 6% in the US toddler market. The company has the opportunity to grow in the toddler market, as it has been focusing on the development of its toddler business in the US.
Expansion opportunities for Mead Johnson
Even though Mead Johnson already has a presence in many countries, more than 50% of its revenue still come from the US and China alone. And so the company is still focused on expansion in markets where opportunities for expansion are available.
Mead Johnson can add meal replacements in the high-growth potential regions of Latin America and North America, where the company has a potentially strong manufacturing and distribution platform.
Now let's analyze Mead Johnson's weaknesses and threats.