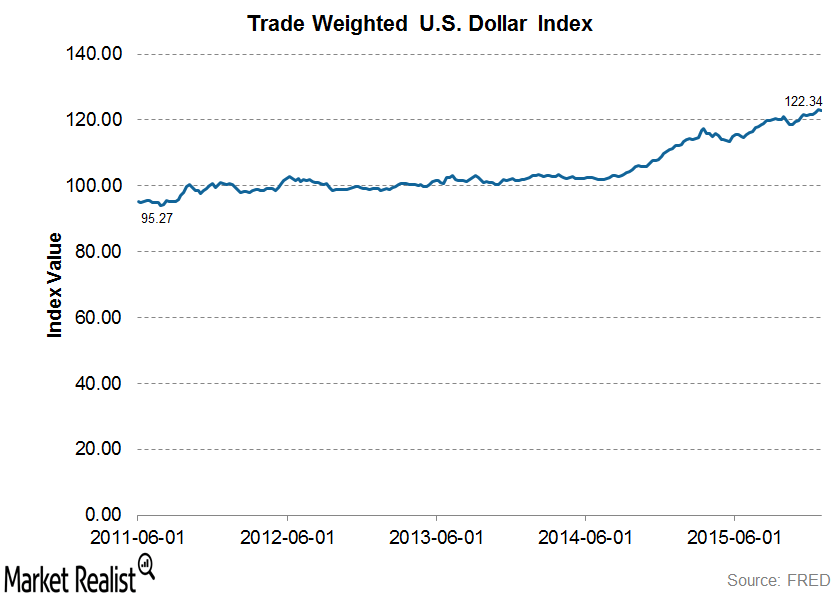 How Did Weak Coal Exports Lead to Arch Coal's Bankruptcy?
By Sheldon Krieger

Jan. 26 2016, Updated 7:36 a.m. ET
Revenue segments
Arch Coal (ACIIQ) supplies its steam coal to both domestic and foreign electric utilities. It supplies its metallurgical coal to domestic and foreign steelmakers. According to its latest 10-K filing, all foreign sales transactions are denominated and settled in US dollars.
In 2012, Arch Coal derived more than 30% of its revenues from exports. The majority of its export revenues came from Europe and Asia. While revenues from domestic markets fell by 24% from their peak level, export revenues fell by a significant 50% from their peak level in 2012.
Article continues below advertisement
Why did Arch Coal's exports decline?
Since 2011, Arch Coal and peers Peabody Energy (BTU), Cloud Peak Energy (CLD), Consol Energy (CNX), and Alpha Natural Resources (ANR) have faced consistent decreases in export revenues. Exports fell mainly due to oversupply in global markets.
The geographic location of Arch Coal's mines also makes it uneconomical to export coal when prices are low. A decrease in coal demand from China and the strong US dollar further worsened the situation for Arch Coal.
The China factor
According to the EIA (U.S. Energy Information Administration), China is the world's largest importer and consumer of coal as of May 24, 2015. China accounts for almost half of global coal consumption.
There has been a considerable decrease in metallurgical coal imports from China due to a slowing economy. According to the World Bank's annual GDP (gross domestic product) estimates, growth in China's GDP decreased from 10.6% in 2010 to 7.3% in 2014. This slow growth rate had a significant impact on global coal trade and metallurgical coal exports of US coal mining companies.
Strength of the dollar
Major coal (KOL) mining companies around the world compete with each other for export revenues. Competition in the international market is impacted by fluctuations in relative foreign exchange rates.
The strength of the dollar against a basket of major world currencies is determined by the Trade Weighted US Dollar Index. A high index value represents a strong dollar relative to other currencies.
A strong dollar makes exports from US companies more expensive and impacts their competitiveness in the global market. So a continued strength of the dollar has a negative impact on coal exports of indigenous coal mining companies, including Arch Coal.