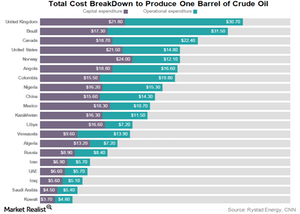 War of Words: OPEC Nations and the Crude Oil Market
Conflict among OPEC nations 
We discussed that OPEC (Organization of the Petroleum Exporting Countries) nations Nigeria, Libya, and Venezuela have the highest total cost for producing crude oil. In contrast, Saudi Arabia and Kuwait have the lowest total cost for producing crude oil. Operational sustainability led to conflict among OPEC members. The total cost of producing crude oil is broken into two categories:
One-time cost – capital expenditure on existing oil fields or a new oil field
Recurring cost – operational expenditure
Article continues below advertisement
Capital expenditure and operational expenditure
Capital expenditure is the total costs associated with the exploring cost, site development of the oil field, and pipeline infrastructure development. On the other hand, operational expenditure includes lifting oil from the well, employees' salaries, and other expenses. The catastrophic fall in oil prices led to the fall in capital expenditure from oil companies from the East to the Middle East. Companies like BP (BP), ONGC, Petrobras (PBR), Shell (RDS.A), Total (TOT), ExxonMobil (XOM), and Chevron (CVX) reduced the capital expenditure in 2015. This will continue in 2016 because oil prices are at a 12-year low.
Next big thing
Companies slashed their capital expenditure, but their operational expenditure continues to rise. So, BP is laying off employees. Many oil giants are also laying off employees. Market surveys project that there were around 250,000 oil jobs lost in the depressed energy market. So, oil companies with the lowest lifting cost would sustain in the oil market.
High-cost OPEC members want an emergency meeting to be set up to curb production. They want OPEC to adopt a price ceiling policy by curb production. However, Saudi Arabia says that OPEC lost the power of swing producer due to rising production from the US, Canada, and Brazil. If it adopts a price ceiling policy by curbing production, it would extend the survival of US shale operators. It would negatively impact the bread and butter of the oil exporting economy. It's driven by OPEC members.
The only options left are price wars and leaving market forces to decide the equilibrium. Read How Are Oil Prices Squeezing OPEC Members' Budgets? and War of Words: How Saudi Arabia and Iran Could Affect Oil Prices.
The ups and downs in the oil and gas market also impact ETFs like the Fidelity MSCI Energy Index ETF (FENY) and the ProShares UltraShort Bloomberg Crude Oil ETF (SCO).
In the next part of this series, we'll explore the global supply and demand balance and how it impacts the crude oil market.