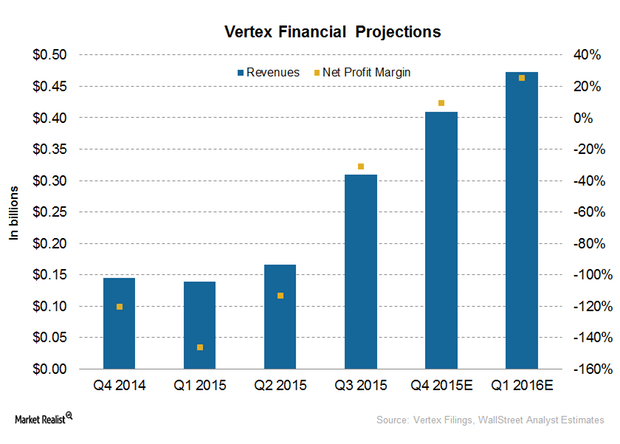 What Are Wall Street's Estimates for Vertex Pharmaceuticals?
By Jillian Dabney

Jan. 25 2016, Updated 12:46 p.m. ET
How do analysts foresee growth for Vertex?
Vertex Pharmaceuticals (VRTX) will announce its 4Q15 and fiscal 2015 earnings on January 27, 2016. According to Wall Street analysts' estimates, sales for Vertex Pharmaceuticals should be $408.8 million and $472.4 million for 4Q15 and 1Q16, respectively. It translates to yearly sales of $1.0 billion in 2015. This would lead to 76.3% year-over-year growth in 2015.
The graph above reflects the revenue and net profit estimates for Vertex Pharmaceuticals for 4Q15 and 1Q16. For 2015, Wall Street analysts estimate revenues to be ~$1.0 billion. According to their estimates, Veretex's revenue might jump to $2.3 billion in 2016.
Article continues below advertisement
Are positive earnings up for Vertex?
For the first time, analysts are expecting Vertex to report positive earnings in 4Q15. The net income margin for the company is expected to be 9.7% for 4Q15, which might rise to 25.5% in 1Q16. Vertex is experiencing an increase in revenue from Kalydeco and Orkambi.
There could be growth in revenue from Kalydeco following geographic expansion coupled with label extension. In July 2015, Orkambi received approval from the FDA (U.S. Food and Drug Administration) to treat cystic fibrosis in patients aged 12 years and above. The target population would be homozygous for the F508del mutation in their Cystic Fibrosis Transmembrane Regulator (or CFTR) gene.
Following FDA approval, Orkambi received approval from the European Commission in November 2015 to treat the same population set. Vertex would now have pricing and reimbursement discussions in Europe on a country-by-country basis.
Higher pricing for Orkambi and Kalydeco
With an increasing revenue base, analysts might be expecting improved efficiency leading to positive margins. Once the revenue surpasses the operating expenses, Vertex will report positive earnings. The company has priced both of the drugs on the higher side. Pricing flexibility for Vertex is in line with competitor drugs such as Alexion Pharmaceuticals' (ALXN) Soliris (eculizumab), Amgen's (AMGN) Blincyto (blinatumomab), and Gilead Sciences' (GILD) Zydelig (idelalisib).
To avoid volatility and direct risk associated with the stock, investors can look for options such as the SPDR S&P 500 ETF (SPY). The ETF has a 0.14% weight in Vertex Pharmaceuticals.