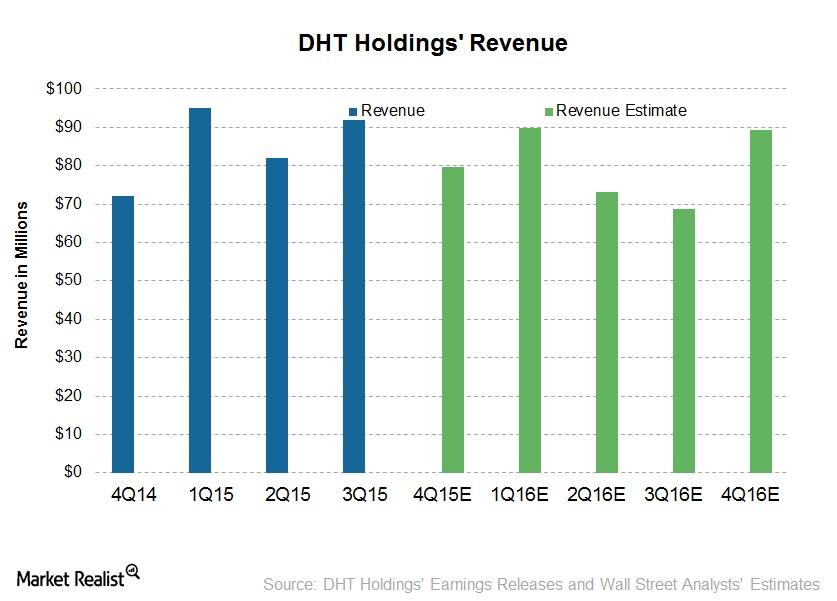 Wall Street Analysts Predict Higher Revenues for DHT in 2016
By Sue Goodridge

Jan. 25 2016, Updated 4:05 p.m. ET
Revenue estimates
Wall Street analysts estimate revenues of $79.7 million for DHT Holdings (DHT) in 4Q15 compared to $92 million in the previous quarter and $72 million in 4Q14. Analysts estimate 102% year-over-year growth in 2015 revenues.
2015 was an exceptionally strong year for crude tankers. Lower oil prices encouraged countries to import more oil for stockpiling. Increased crude (DBO) tanker demand spiked tanker rates, and they touched some of their highest numbers since 2008.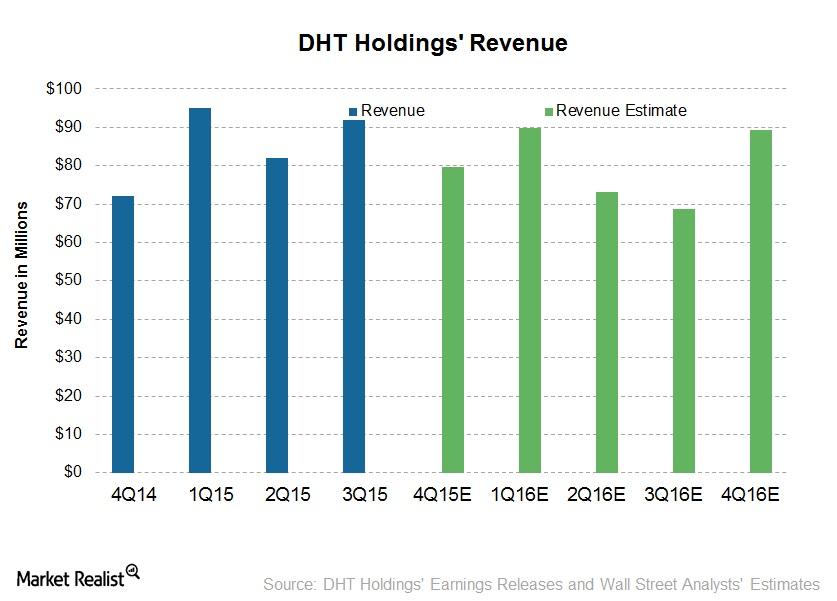 Article continues below advertisement
DHT's strategy
DHT employs its vessels in the spot market as well as in the time charter market. The company changes its mix of spot and fix according to the industry cycle. Investors can look at DHT's spot and fixed exposure as well as its peers such as Nordic American Tanker (NAT), Teekay Tankers (TNK), Tsakos Energy Navigation (TNP), and Euronav (EURN) in the time charter market.
In the current cycle, which DHT Holdings calls a "high market phase," the company employs a strategy of securing long-term charters. Along with the spot rates, time charter rates also increased in 2015, which the company had locked in through entering into new, five-time charter contracts in 2015. It also repriced and extended a few other contracts.
Currently, the company has eight vessels on time charter contracts. The average VLCC time charter rate is $48,000 per day, while the average rates of Suezmax and Aframax time charters are $30,000 and $23,000 per day.
2016 revenue estimates
The company has four newbuilds in its pipeline. These will be delivered in 2016. Tanker rates are expected to remain strong in the first half of 2016. In the second half, rates may plunge due to excess supply in the market, as the industry orderbook is heavy toward the end of 2016. With increased fleet and a few high-priced time charter contracts, analysts expect the company's revenue to rise by 12% to $339 million in 2016.
2017 estimates
Tanker rates are expected to subdue in second half of 2016 and beyond. The company will enter 2017 with only five time charter contracts, of which three will expire in the first, second, and fourth quarters of 2017. On the positive side, the company will enjoy the full-year impact of an increased fleet.
On the other hand, lower expected spot rates and the rolling-off of high price time charter contracts will weigh negatively on 2017 revenues. Wall Street analysts estimate that DHT's 2017 revenue will be $324 million, down by 4% from 2016's estimated revenue.