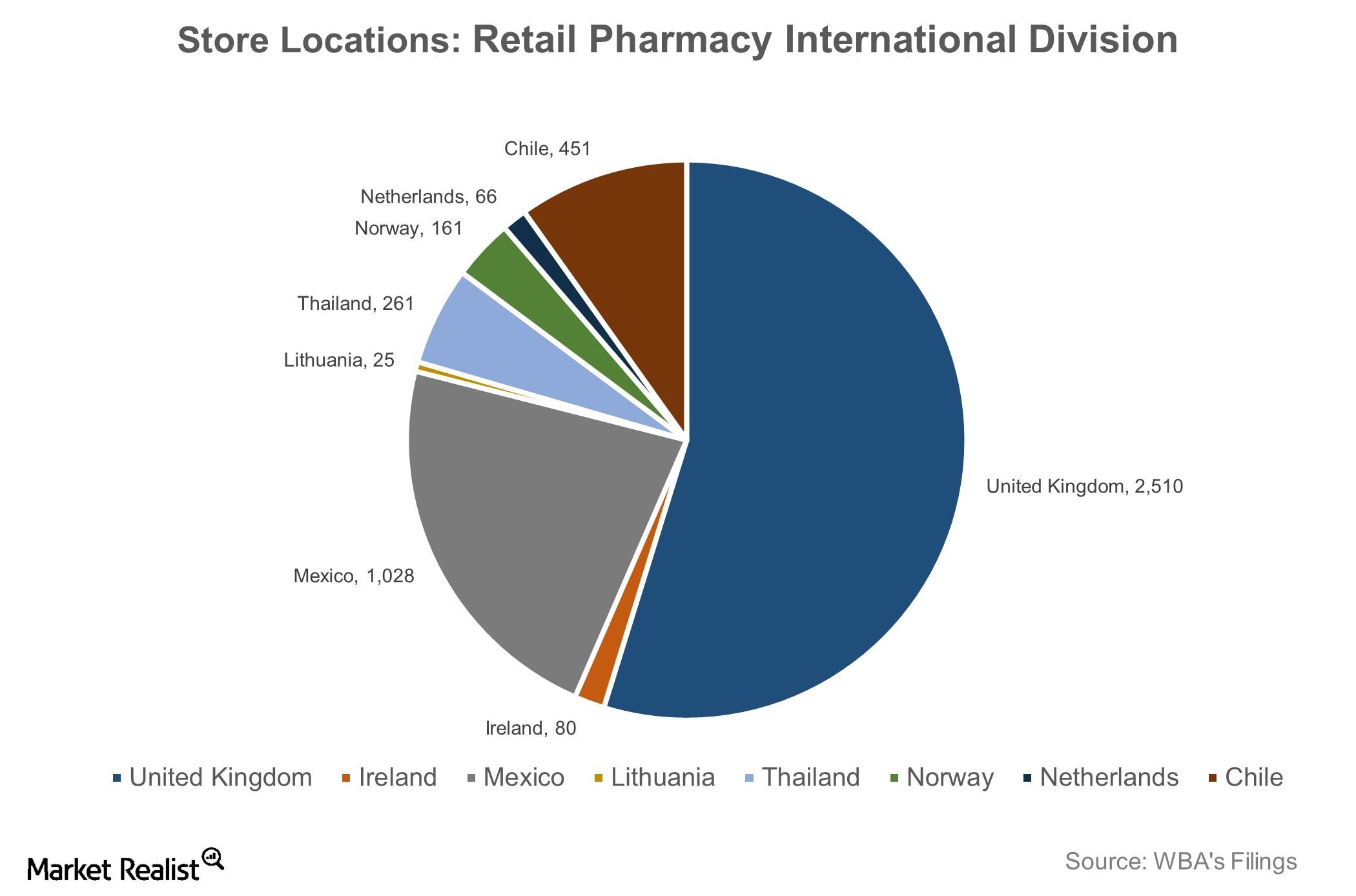 Walgreens Boots Alliance's Retail Pharmacy International Division
By Sonya Bells

Jan. 20 2016, Updated 2:39 p.m. ET
Overview of the Retail Pharmacy International division
Under its Retail Pharmacy International division, Walgreens Boots Alliance (WBA) operates pharmacy-led health and beauty retail businesses in eight countries. This division consists of the legacy Alliance Boots retail and pharmacy businesses. As of August 31, 2015, the company operated 4,582 retail stores under this division. The company's major brands include Boots in the United Kingdom, Thailand, Norway, Ireland, and the Netherlands, Benavides in Mexico, and Ahumada in Chile. The company also has 637 optical practices in the United Kingdom, of which 177 operated on a franchise basis as of August 31, 2015.
Walgreens Boots Alliance also has a strong online presence. In the United Kingdom, the company operates boots.com and webmd.boots.com, which are the most-visited health websites, receiving approximately 19 million and 11 million visits monthly, respectively.
Article continues below advertisement
Sales components
The components of this division's sales are pharmacy and retail. Pharmacy includes the sale of prescription drugs and the provision of pharmacy-related services in international markets, and retail primarily includes the sale of health and beauty products including beauty, toiletries, lifestyle merchandising, non-prescription drugs, and, in the United Kingdom, the provision of optical services.
Financial performance
The Retail Pharmacy International division generated an operating margin of 4.7% of sales of $8.6 billion in fiscal 2015. This segment represented 8.4% of the company's total sales and 8.7% of its operating margin. The pharmacy and retail components represented 37% and 63% of this segment's sales in fiscal 2015.
ETF exposure
Investors looking for exposure to Walgreens Boots Alliance (WBA) and top US drugstore chains CVS Health (CVS) and Rite Aid (RAD) can invest in ETFs such as the SPDR S&P Retail ETF (XRT) and the Vanguard Consumer Staples ETF (VDC). These three pharmacy giants together have a combined weight of 2.9% and 9.6% in these ETFs, respectively.