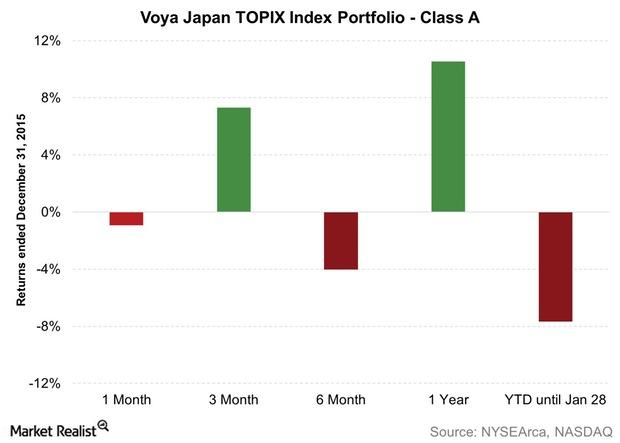 How Did the Voya Japan TOPIX Index Portfolio Fare in 2015?
Performance evaluation
The Voya Japan TOPIX Index Portfolio – Class A (IJIAX) fell 0.9% in December 2015 from the previous month. In the three- and six-month periods ended December 31, the fund has risen 7.3% and fallen 4.0%, respectively. In the one-year period, which we will analyze, the fund has returned 10.5%. From the end of December until January 28, 2016, the fund has fallen 7.7%.
The fund's performance placed it fifth among the six funds in this review. Let's examine what contributed to this performance.
Article continues below advertisement
Portfolio composition and contribution to returns
Founded in August 2009, the Voya Japan TOPIX Index Portfolio – Class A (IJIAX) is a comparatively newer offering, second only to the BIAJX. Because it is a passively managed fund, all portfolio descriptions that we will mention will refer to only the index and not to active picks, unlike other Japan-focused mutual funds in this review.
Because the latest complete portfolio of the fund available to us is as of September 2015, we will consider that as our base. For December, we will consider valuation changes for our analysis. All portfolio percentages mentioned from here on will refer to their weights according to changes in valuation from September to December.
Though consumer staples formed less than a tenth of the fund's assets, it emerged as the biggest positive contributor to the fund's returns in 2015 by a small margin. Japan Tobacco Inc. led positive contributors from the sector, which included Seven & i Holdings Co., Ltd. and Kao Corporation. Some detractors were present, but they did not have any sizable impact on the positive contributors.
The consumer staples edged out the consumer discretionary sector in terms of positive contribution to returns. The discretionary sector was led by Honda Motor Co., Ltd. (HMC) and included companies like Nissan Motor Co. Ltd. (NSANY), Sony Corporation (SNE), Toyota Motor Corporation (TM), and Fuji Heavy Industries Ltd. (FUJHY). Negative contributors were led by Panasonic Corporation (PCRFY), but they did not have a major impact on the sector's returns.
Ono Pharmaceutical Co Ltd and Takeda Pharmaceutical Company Limited (TKPYY) led the healthcare sector while Nippon Telegraph and Telephone Corporation (NTT) led the telecom services sector up.
Reasons for performance
Although no sector emerged as a negative contributor for IJIAX in 2015, why did the fund still emerge as a poor performer? The reason lies with the fact that with Japanese equities gaining in the year, several actively managed products did better than the passively managed ones.
Whereas active managers could align their portfolios to the changing market conditions, passively managed products had to continue tracking the index. The fund did not perform badly, but compared to most actively managed mutual funds, its performance came up short.
However, the product remains suitable for those investors who just want broad-based exposure to Japanese equities without worrying too much about the performance of their fund manager.
In the next article, let's take a look at the Matthews Japan Fund – Investor Class (MJFOX).