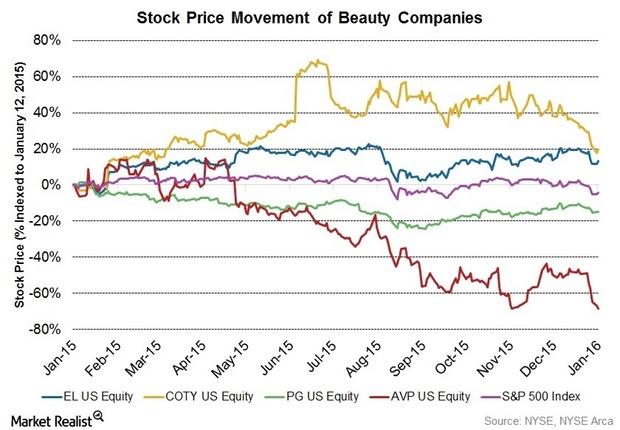 Volatile Stock Price Movement for Beauty Companies in 2015
By Penny Morgan

Jan. 18 2016, Updated 10:06 a.m. ET
Stock price movement in 2015
From January 12, 2015, to January 12, 2016, the stock prices of all beauty companies saw volatile movements. Estée Lauder's (EL) stock price rose 8.1% to $86.97 on November 2, 2015, after it released its earnings results. Estée Lauder's stock price has risen 13.4% since January 12, 2015.
Article continues below advertisement
Upward moving stocks
EL's stock has consistently seen an upward movement since the beginning of 2015 until August 25, 2015, when the stock price fell drastically. However, the stock was able to gain some until October. It fell almost 15.7% to $75.73 on August 25, 2015, from $89.81 on August 13, 2015. The fall was primarily due to currency headwinds and the fall in global markets, particularly in the Asia-Pacific region.
Similarly, Coty's (COTY) stock price has risen 19.8% since January 12, 2015. The increase in stock price is primarily due to Coty's agreement to merge with Procter & Gamble's (PG) 43 beauty brands. Coty offered $12.5 billion for the 43 brands. To learn more about this deal, you can read Procter & Gamble Divestitures: Is 43-Brand Coty Deal the Last? However, Coty's stock price fell 5.8% to $28.20 on November 5, 2015, after results were released due to lower-than-anticipated revenue.
Downward movement
Stock prices for Procter & Gamble (PG) and Avon (AVP) have fallen by 14.9% and 68.5%, respectively, since January 12, 2015. The benchmark S&P 500 Index (SPY) (IVV) (VOO) has also fallen by 4.4% since January 12, 2015. The major fall in Avon's stock price is due to the continued effect of currency translations and the weak Brazilian economy impact of Avon's large South American business.
Overall, an uncertain retail (XRT) environment and the pessimism surrounding the results of P&G, AVP, and EL impacted stock prices in August due to currency headwinds. EL has exposure in the PowerShares S&P 500 Downside Hedged ETF (PHDG) with 0.1%[1. updated as of January 12, 2016] of the total weight of the portfolio.