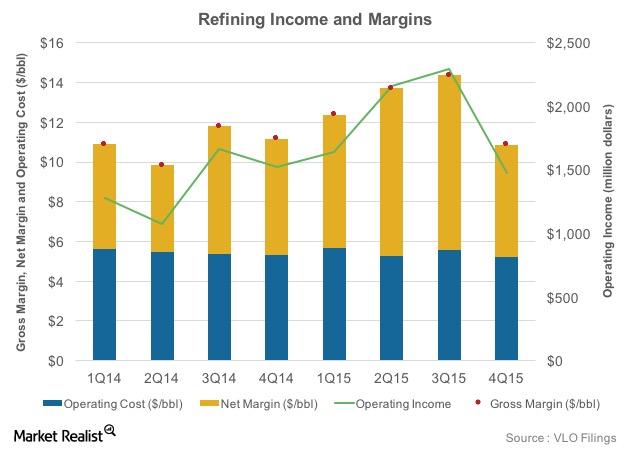 VLO's Net Refining Margin Fell to $5.6 per Barrel in 4Q15
VLO's refining margin in 4Q15
In 4Q15, VLO noted a fall in GRM (gross refining margin) to $10.9 per barrel compared to $11.2 per barrel in 4Q14. With stable operating costs, the fall in GRM led to a marginal fall in the net refining margin by $0.2 per barrel over 4Q14 to $5.6 per barrel in 4Q15. The adjusted operating income from the refining segment fell by 3% over 4Q14 to $1,480 million in 4Q15.
The key factors that affect Valero's GRM are refined product cracks, the differential between sweet and sour crude oil prices, and the costs of other feedstock and blendstock. In 4Q15, gasoline cracks rose across VLO's operating areas of the US Gulf Coast, US Mid-continent, North Atlantic, and US West Coast compared to 4Q14. But this was offset by a fall in diesel cracks in all the zones. To add to that, the Brent–WTI (West Texas Intermediate) as well as Brent–ANS (Alaska North Slope) oil spreads have narrowed in 4Q15 compared to 4Q14.
Article continues below advertisement
Valero and its peers: Refining margins
Refining margins fell in 4Q15 and then rose steeply up to 3Q15. In 3Q15, VLO noted a rise in GRM by $2.6 per barrel to $14.4 per barrel compared to 3Q14. Valero's peers have also witnessed a rise in GRMs in the third quarter. Marathon Petroleum Corporation (MPC), Tesoro Corporation (TSO), and Phillips 66 (PSX) saw their GRMs widen respectively by $2.7, $5.6, and $3.1 per barrel over 3Q14 to $17.3, $20.5, and $14 per barrel in 3Q15, respectively. The iShares US. Energy ETF (IYE) has 10% exposure to refining sector stocks.
VLO's ethanol segment: Performance in 4Q15
In 4Q15, due to lower ethanol prices and stable corn costs, the adjusted income from the ethanol segment fell to $37 million from $154 million in 4Q14. This was in spite of the rise in production from 3.8 million gallons per day in 4Q14 to 3.9 million gallons per day in 4Q15.