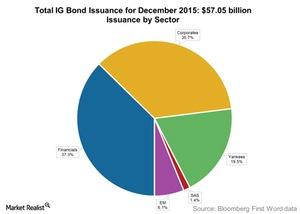 Visa Led the High-Grade Bond Issuance in December 2015
By Lynn Noah

Jan. 5 2016, Updated 10:26 a.m. ET
Deals overview
US financials were the biggest issuers of high-grade bonds in December. They accounted for 37.3%, or $21.3 billion, of all the issues. US corporates were the second-biggest issuers. They accounted for 35.7% of all the issues. Meanwhile, Yankee bond issuers raised $11.1 billion through high-grade bonds. They accounted for 19.5% of the total issuance. Emerging market issuers issued $3.5 billion worth of high-grade bonds in December 2015.
Issuances by high-grade corporates form part of mutual funds like the T. Rowe Price New Income Fund (PRCIX) and the Strategic Advisers Core Income Fund (FPCIX).
Article continues below advertisement
Major issues in December
In the next part, we'll analyze investment-grade bond fund flows.