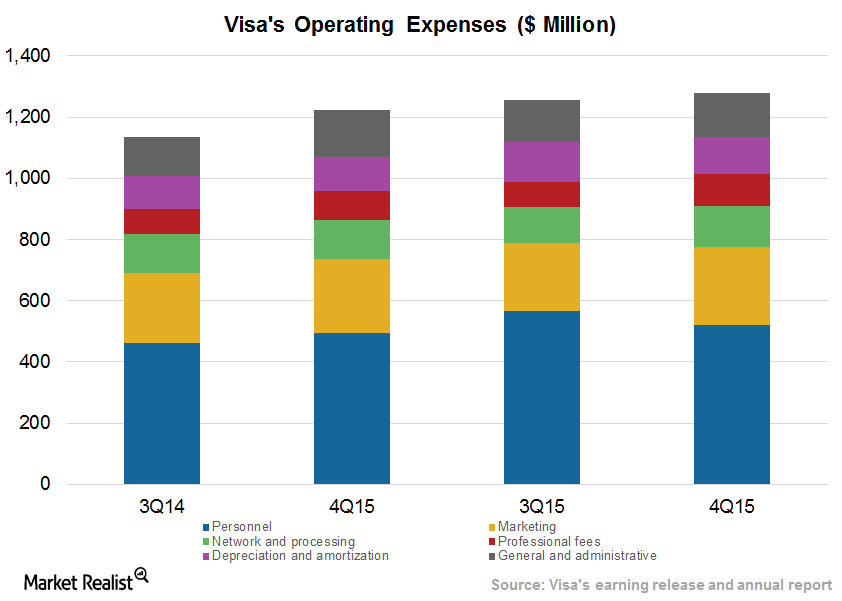 Visa Expected to Thrive on High Operating Margin
By Robert Karr

Jan. 20 2016, Updated 10:06 a.m. ET
High operating margin
Visa (V) has maintained its operating margin above 60% over the past few years. The company's major expenses include personnel, marketing, network and processing, and professional fees. Personnel costs rose by 5% in 4Q15 (which ended September 30, 2015) compared to the prior year. This was mainly due to above-normal employee incentives, which resulted from a better-than-expected performance. The company's marketing and network and processing expenses increased by 5% on a year-over-year basis. Its operating margin was healthy at 64% during the quarter.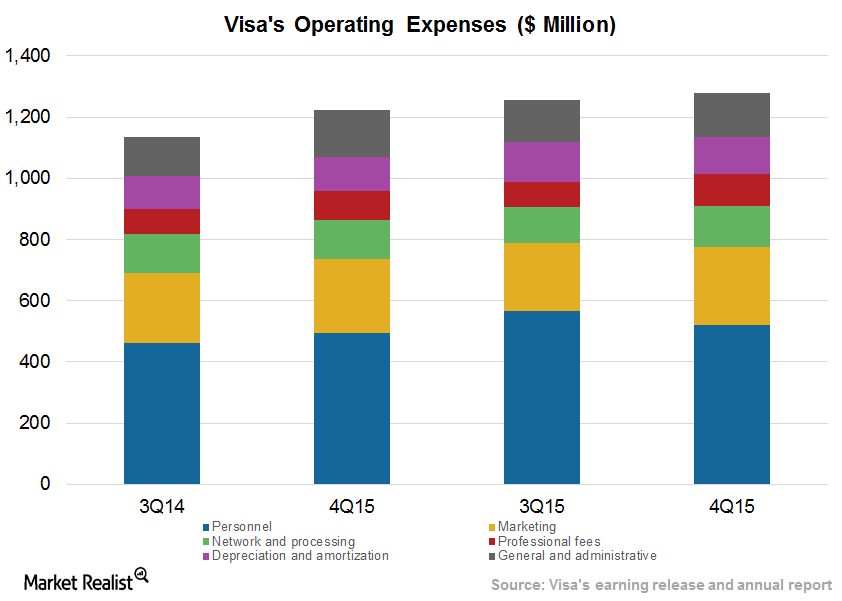 Visa saw its revenue rise by 11% and its operating income grow by 47% in 4Q15, as compared to 4Q14. The company's operating expenses fell by 23% during the same period mainly due to higher litigation costs in 4Q14.
Article continues below advertisement
Outlook for fiscal 2016
Visa expects its revenue to achieve high single-digit or low double-digit growth in fiscal 2016, with a 3% negative impact from the foreign currency. The company is forecasting client incentives in the range of 17.5%–18.5% in order to compete against other major players in the industry.
EPS (earnings per share) growth for the full year are expected to be in the low end of the mid-teens. The negative impact from foreign currency is expected to be 4%. For the full year, the company expects free cash flows of $7 billion.
Visa achieved total revenue of $13.9 billion in the last fiscal year. Here's how some of Visa's peers in the payment-processing industry fared with their revenues in the last fiscal year:
MasterCard (MA)—$9.5 billion
American Express (AXP)—$35.9 billion
Discover Financial Services (DFS)—$7.6 billion
Together, these companies account for 2.3% of the SPDR Dow Jones Industrial Average ETF (DIA).