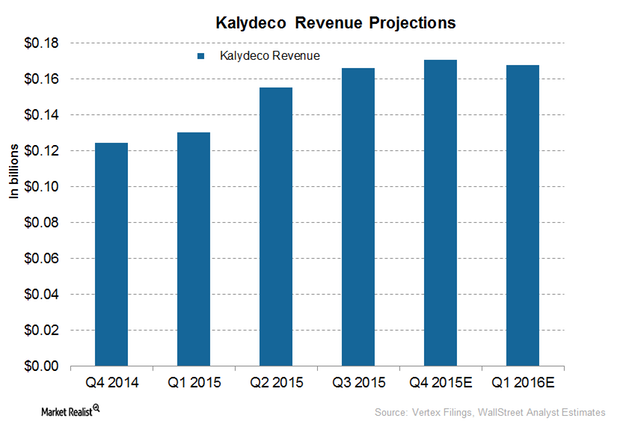 Vertex's Cystic Fibrosis Drugs and Their Controversial Prices
By Jillian Dabney

Jan. 28 2016, Updated 12:06 p.m. ET
Is Kalydeco a major revenue driver?
In 2012, Vertex Pharmaceuticals' (VRTX) Kalydeco was approved to treat patients aged six years and older who have specific G551D mutation in their Cystic Fibrosis Transmembrane Regulator (or CFTR) gene.
In 2014, the drug was further approved for eight additional mutations. Currently, there are ten approved CFTR gene mutations for the use of the drug. They include G551D, G1244E, G1349D, G178R, G551S, S1251N, S1255P, S549N, S549R, and R117H. Vertex has continued label expansion efforts for Kalydeco. The company submitted an sNDA (Supplemental New Drug Application) with the FDA (U.S. Food and Drug Administration) for patients two years and older with one of the 23 residual functions at the result in cystic fibrosis.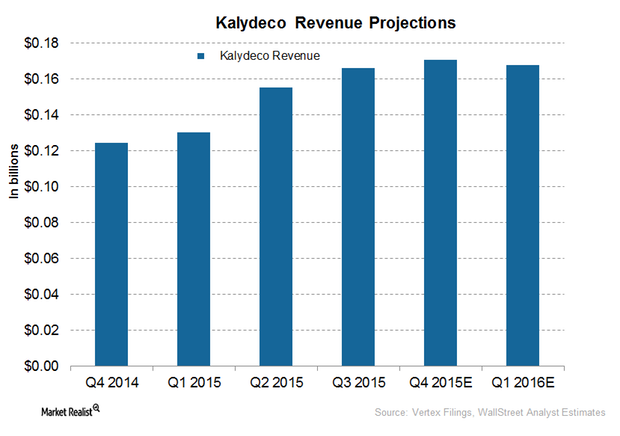 The graph above details Wall Street analysts' revenue estimates for Kalydeco for 4Q15 and 1Q16. The drug is estimated to generate $170.4 million and $167.4 million during 4Q15 and 1Q16, respectively.
Historically, revenue from Kalydeco has been significant for Vertex Pharmaceuticals (VRTX). For 2015, the company expects it to add $630 million to its top line.
Article continues below advertisement
How much does Kalydeco cost?
Vertex priced Kalydeco at $294,000 per year and recently increased the price to $311,000. According to Medi-Span, 56 tablets of Kalydeco cost the patient $28,675.36. Vertex is not the only company pricing its drugs at the higher end. Gilead Sciences (GILD) was criticized for pricing Sovaldi, a once-daily pill indicated for Hepatitis C, at $1,000 per day. Soliris, a drug manufactured by Alexion Pharmaceuticals (ALXN), costs up to $700,000 in Canada. The US price for the drug is nearly half a million dollars. Similarly, the annual wholesale cost for two of BioMarin's (BMRN) drugs, Naglazyme and Vimizim, are $485,747 and $380,000, respectively.
As companies conduct research for orphan diseases that affect less than 200,000 people in the United States, the drugs offer a substantial pricing advantage. Although there is an ongoing debate about pricing these drugs on the higher side, their life-saving capacity for those few thousands cannot be questioned. This might be one of the reasons that biotechnology companies continue to manufacture such costly drugs.
To diversify the risk of investing directly in the equity of Vertex Pharmaceuticals, investors can look for options such as the Health Care Select Sector SPDR Fund (XLV). XLV holds 0.94% of its total holdings in Vertex stock.