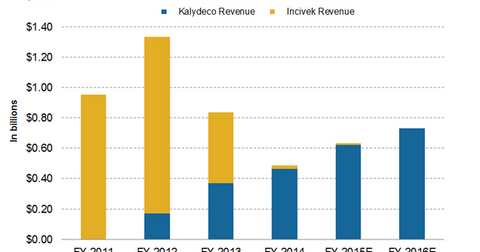 Vertex Will Focus on Cystic Fibrosis Market in 2016
By Jillian Dabney

Updated
What to expect from Vertex in the near term
In July 2015, Vertex Pharmaceuticals' (VRTX) Orkambi received FDA (U.S. Food and Drug Administration) approval for the indication of cystic fibrosis (or CF). Later, in November 2015, it received approval from the European Commission for treating CF. By the end of December 2015, more than 4,500 patients had already started using Orkambi.
The graph above reflects annual revenue from the sale of Kalydeco and Incivek. Kalydeco is another feather in Vertex's cap. According to company guidance, the drug might fetch $670–$690 million of net revenue during 2016. Wall Street analysts are expecting Kalydeco to add $731 million of net revenue during 2016. Vertex (VRTX) hasn't provided any guidance for Orkambi's revenue during 2016.
Article continues below advertisement
Incivek: Recent failure
As you can see in the graph above, revenue from Incivek is gradually expected to decline to a level of zero. Prior to 2014, Vertex (VRTX) generated significant revenue from the sale of Incivek for the indication of genotype 1 HCV (Hepatitis C virus) infection. Increased competition in the field of HCV led to declining revenues for the product. As a result, Vertex withdrew Incivek from the US market in 2015. It might report small incremental revenue from the drug as a result of adjustments related to rebates, chargebacks, and discounts.
The graph above details Wall Street analysts' total revenue expectations for Vertex for 2015 and 2016. Analysts are expecting annual revenue for 2015 and 2016 to be around $1 billion and $2.3 billion, respectively.
Operating efficiency
Vertex has anticipated non-GAAP (generally accepted accounting principles) R&D (research and development) and selling, general, and administrative expenses to be $1.18–$1.23 billion for 2016. With the advancement of the R&D pipeline candidates coupled with anticipated higher selling expenses associated with Orkambi's global launch, Vertex could experience higher operating expenses. For cost structure details, please refer to Vertex Pharmaceuticals' Cost Structure and EBITDA Margins.
Biotechnology companies enjoy higher margins. With blockbuster drug launches, Alexion Pharmaceuticals (ALXN), Amgen (AMGN), and Biogen (BIIB) have witnessed margin expansions.
To get exposure to Vertex Pharmaceuticals and control excessive company-specific risks, investors can choose to invest in the Health Care Select Sector SPDR ETF (XLV). Vertex accounts for 0.94% of XLV's total holdings.