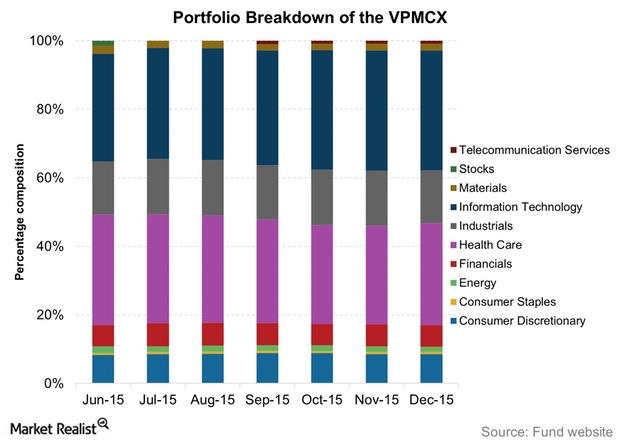 How the Vanguard PRIMECAP Fund Performed in 2015
By David Ashworth

Dec. 4 2020, Updated 10:53 a.m. ET
Vanguard PRIMECAP Fund
The Vanguard PRIMECAP Fund – Investor Shares (VPMCX) "invests in stocks considered to have above-average earnings growth potential that is not reflected in their current market prices. The Fund's portfolio consists predominantly of large- and mid-capitalization stocks."
The fund literature states that fund managers have a long-term perspective while managing this fund and they do it with an "extremely low turnover." Multiple fund managers are involved in investment decisions. The portfolio is divided into portions that are managed independently, which the fund claims provides "diversity of thought." Investors should note that the fund may become concentrated in a few sectors, especially technology and healthcare. Readers should note that this fund is closed to new investors.
Article continues below advertisement
The fund's assets were invested across 128 stocks as of December 2015, and it was managing assets worth $46.3 billion as of the end of December. As of December, its top ten equity holdings included Biogen (BIIB), Texas Instruments (TXN), Roche Holdings (RHHBY), Southwest Airlines (LUV), and FedEx (FDX). Its top ten holdings formed 44.3% of the fund's November net assets.
Historical portfolios
For this analysis, we will be considering holdings as of September 2015, as that is the latest available sectoral breakdown the fund has put out. The holdings after September reflect the valuation-driven changes to the portfolio, not the actual holding.
The fund's fortunes revolve around how the information technology and healthcare sectors do, as these are the fund's top two sectors in that order. Together, they command 65% of the fund's assets. The fund has industrials as its preferred choice after these two sectors instead of the generally popular consumer discretionary sector. The former forms 15% of the fund while the latter forms 8.5%. The fund is not invested in the utilities sector.
Compared to the S&P 500 Index, the VPMCX is underweight in the consumer discretionary, consumer staples, energy, financials, materials, and telecom services sectors. Meanwhile, it is overweight in the healthcare, industrials, and information technology sectors.
A look at the stock-level composition of the portfolio shows that the fund management has pretty much held on to its stock holdings. There have been a few additions, but not too many liquidations.
In the next article, let's see how the fund's investment strategy has fared over various periods and what has contributed to its 2015 performance.