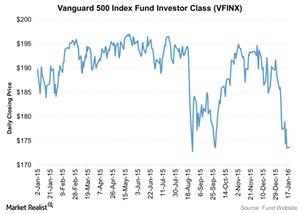 US Stock Indexes Fell as Oil Prices Touched New Lows
By Lynn Noah

Aug. 18 2020, Updated 4:40 a.m. ET
US stock indexes fell
The three US equity indexes under review in this weekly series fell from January 12 to January 19, 2016, as the oil price rout continued and Chinese gross domestic product (or GDP) numbers fell to their lowest since 1990. The S&P 500 index, tracked by the Vanguard 500 Index Fund Investor Class (VFINX), fell 3.0%.
The Dow Jones Industrial Average (DJIA), fell 3.0%, far below the psychologically important 18,000 level. Meanwhile, the NASDAQ fell 4.5%.
Article continues below advertisement
China's GDP and Marc Faber's opinion on its growth
China's GDP grew 6.9%, its slowest pace in the last 25 years, in 2015. In the fourth quarter, it grew at 6.8%, the lowest quarterly rate since the global financial crisis of 2009.
However, investor Marc Faber believes that China is growing at a slower pace than what the official data suggests. Faber, author of The Gloom, Boom & Doom Report, said to CNBC, "My sense is that at very best, the economy is growing at around 4% per annum, but it could be lower."
Oil prices tumbled below $28 a barrel
Oil prices tumbled below $28 a barrel, the lowest price since 2003, as Iran sanctions were lifted. Iranian oil is ready to hit the market soon. Meanwhile, the Iranian oil ministry issued an order to increase production by 500,000 barrels per day once the sanctions were lifted. Iran currently produces 2.8 million barrels per day and exports more than one million barrels per day.
According to a monthly report from the International Energy Agency (or IEA), new supplies from Iran and other countries could result in a surplus of 1.5 million barrels per day over the first half of 2016. Further, due to the cooling down of the Chinese economy, energy demand from the world's second-largest economy has slowed considerably.
Article continues below advertisement
Junk bonds
Junk bond yields rose week-over-week by 53 basis points and ended at 9.4% on January 15, 2016. Due to the rise in yields, weekly returns of mutual funds investing in junk bonds such as the American Funds American High-Income Trust Class A (AHITX) and the T. Rowe Price High Yield Fund Advisor Class (PAHIX) fell in the week ended January 15.
This series will cover the developments in the primary and secondary markets for high-yield debt and leveraged loans. We will begin with developments in the high yield primary market issuance.