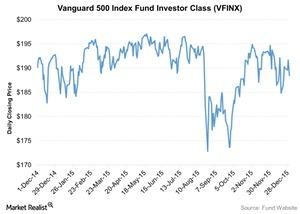 US Stock Indexes Fell in December amid Falling Oil Prices
US stock indexes fell
The three US equity indexes that we review in this December recap series fell from November 30 to December 31, 2015, after the Chinese stock market fell as China reported weak manufacturing data, not to mention growing tension between Saudi Arabia and Iran. This may lead to a further oil price rout. The S&P 500 Index, tracked by the Vanguard 500 Index Fund Investor Class (VFINX), fell 2.1% month-over-month. The Dow Jones Industrial Average (or DJIA), fell 1.7% and remained below the psychologically important 18,000 level. Meanwhile, the NASDAQ fell 2.0%.
Goldman Sachs stated, "US corporate credit quality has deteriorated to the weakest level in a decade."
Similarly, Carl Icahn had said earlier in December that, "the high-yield market is a 'keg of dynamite' that's bound to blow up sooner or later."
Article continues below advertisement
Economic indicators and corporate news
The US manufacturing sector contracted further in December, providing negative news for construction companies such as Caterpillar (CAT) and Deere & Company (DE). The ISM (Institute for Supply Management) Index of national factory activity fell to 48.2 in December from 48.6 the month before.
The shares of the pharmaceutical company Baxalta (BXLT) rose after speculation that Shire PLC (SHPG) would acquire Baxalta for $32 billion.
The shares of Acadia Healthcare Company (ACHC) rose after it announced that it had signed a definitive agreement for the acquisition of a UK-based provider of behavioral healthcare services known as Priory Group.
Junk bonds
Junk bond yields rose month-over-month, from November 30 to December 31, 2015, by 63 basis points and ended at 8.76% on December 31. Due to the rise in yields, the monthly returns of mutual funds investing in junk bonds like the American Funds American High-Income Trust (AHITX) and the T. Rowe Price High Yield Fund (PAHIX) fell in December 2015.
This series will cover the developments in the primary and secondary markets for high yield debt and leveraged loans. We'll look at the developments in the high yield primary market in December 2015.