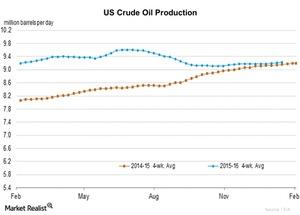 US Crude Oil Production Levels Pushed Inventory Levels
By Manu Milan

Jan. 27 2016, Updated 10:43 a.m. ET
Crude oil production and imports
The production levels of US crude oil were at 9.2 MMbbls (million barrels) for the week ended January 15, 2016. The production levels were almost stable with slight rises from the past four to five months. Also, US crude oil imports are rose from the past three weeks to stand at 7.8 MMbbls for the week ending January 15, 2016.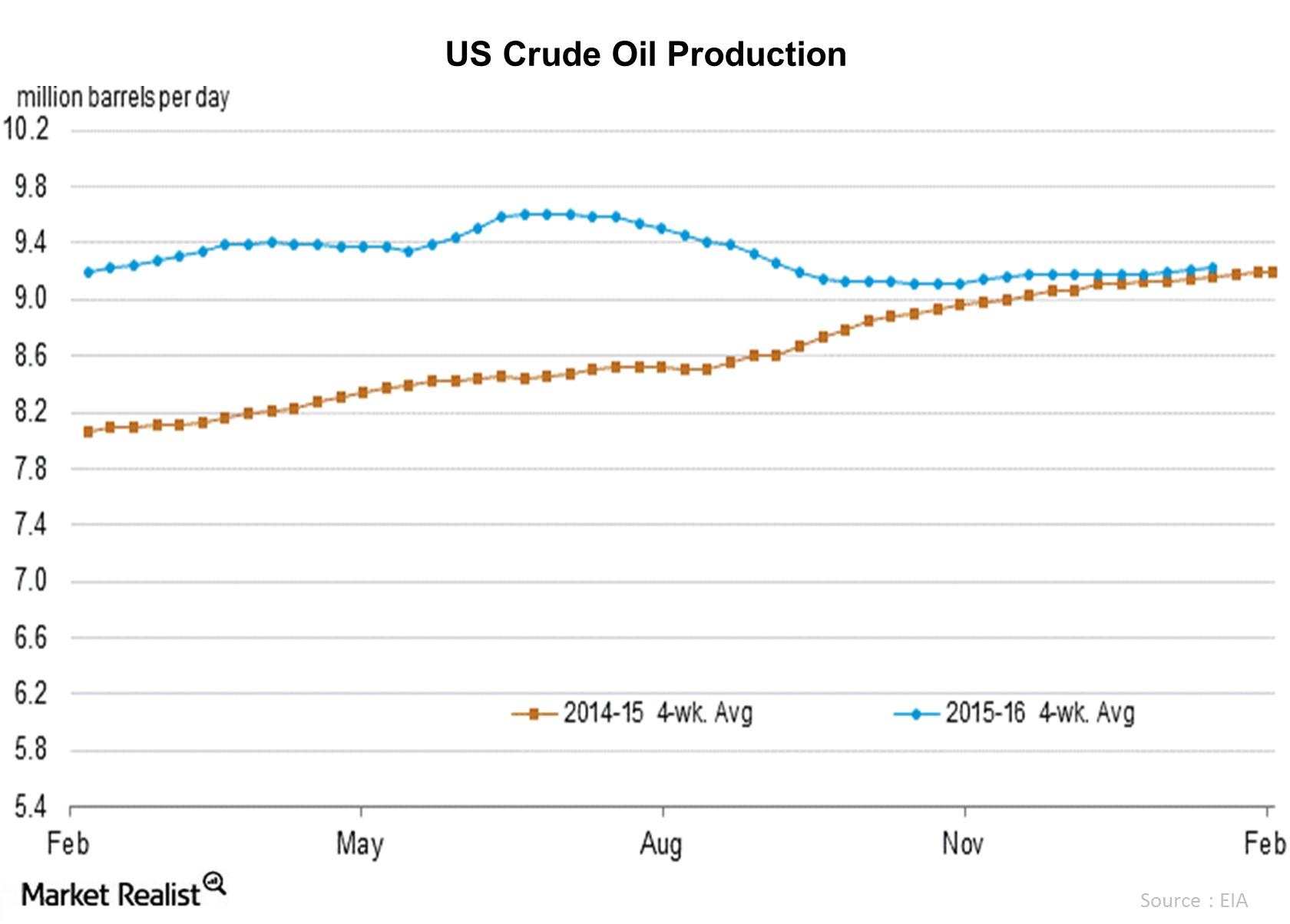 Article continues below advertisement
API report shows massive rise in crude oil inventories
The analysts were expecting a rise of 3.5 MMbbls, but crude oil inventories rose by 11.4 MMbbls for the week ending January 22, 2016. The rise in crude oil inventories is due to stable production levels and lower demand from refineries.
Additionally, US production levels were around 9.6 MMbbls in June 2015 but gradually fell to 9.09 MMbbls in October 2015. But, once again, US crude oil rose by around 0.2 MMbbls to stand at 9.23 MMbbls for the week ending January 15, 2016.
After coming back from their winter refinery maintenance, refineries operated at 95% of their operable capacities. On the other hand, the operable capacities have gradually fallen to 91% heading to summer refinery maintenance.
The fall in refinery runs is mainly because of the lower gasoline and distillate demand. In turn, the distillate demand has been worsened due to mild weather that limited refinery inputs. But, the production and imports of crude oil continued at previous levels. So, week by week, crude oil inventories are rising.
Impact
The rise in crude oil production levels is good for crude oil producers like Conoco Phillips (COP), Chesapeake Energy (CHK), Anadarko Petroleum (APC), Occidental Petroleum (OXY), and Devon Energy (DVN). But the current crude oil production levels resulted in massive inventory builds due to lower demand. That's negative for crude oil prices as well as the revenues of crude oil producers.
Devon Energy (DVN) accounts for 0.78% of the iShares US Energy ETF (IYE).