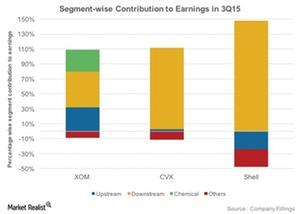 Tumbling Oil Prices and Integrated Energy Companies
By Maitali Ramkumar

Jan. 8 2016, Updated 1:20 p.m. ET
Oil prices and integrated energy companies
Integrated energy companies are insulated—but not immune—from oil price volatility. Falling oil prices have changed the segment dynamics in integrated energy companies like ExxonMobil (XOM), Chevron (CVX), Royal Dutch Shell (RDS.A), and BP (BP). The refining segment has been an earning savior for these energy companies in the past few quarters.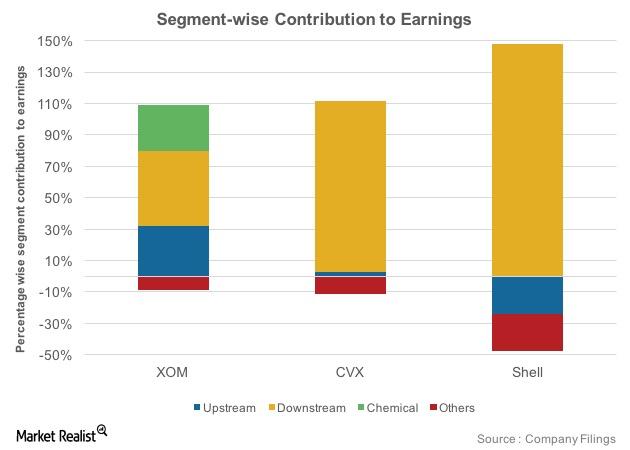 Changed segment dynamics are visible in the results for 3Q15 that were posted by these integrated giants. The upstream segment that contributed 80% of XOM's earnings in 3Q14 contributed 32% in 3Q15. Likewise, CVX's upstream segment's contribution to earnings fell to 3% in 3Q15 from 83% in 3Q14. As for Shell, the upstream segment turned into a loss-making division in 3Q15. According to Shell, the $10 per barrel change in Brent price affects its annual earnings by ~$3.3 billion.
Article continues below advertisement
Impact of falling oil prices on upstream companies
On the other hand, pure upstream companies like ConocoPhillips (COP) and EOG Resources (EOG) are the most affected by the fall in crude oil prices as that's their main source of income. Upstream firms incur capital as well as operating expenditure for the exploration, production, and sale of crude oil and natural gas. Thus, when oil prices fall, that pressurizes the earnings of upstream companies. This is visible in 3Q15, where COP and EOG reported weaker results.
Also, oil equipment and services companies like Schlumberger NV (SLB) and Halliburton (HAL) have also borne the brunt of falling oil prices. With lower oil prices, upstream companies reduce their capital expenditures for the exploration and production of oil. This, in turn, affects the earnings of oil equipment and services companies. SLB as well as HAL saw their earning pressurized in 3Q15 over 3Q14.
If you're looking for exposure to the overall energy sector, you can consider the SPDR S&P Oil & Gas Exploration & Production ETF (XOP). The ETF has an exposure of ~6% to integrated energy, ~20% to refining and marketing, and ~74% to the oil and gas exploration and production sector.