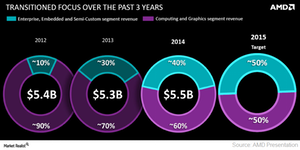 Tough Sledding for AMD Stock since 2012
By Puja Tayal

Dec. 4 2020, Updated 10:52 a.m. ET
AMD stock at a glance
Since 2012, Advanced Micro Devices (AMD), a pioneer in graphic technologies, has been posting continued losses and losing market share to its rivals—Intel (INTC) in the high-performance server market and Nvidia (NVDA) in the game console market.
AMD's stock has fallen 71.5% over the past five years from ~$8.00 in January 2011 to ~$2.00 in January 2016. Throughout this series, we'll explore the current state of AMD and its future growth prospects.
Article continues below advertisement
AMD overview
Formed in May 1969, AMD manufactures high-performance computing, graphics, and visualization technologies for servers, desktops and workstations, gaming consoles, and embedded systems applications. The company has divided its products into two major segments based on the end consumer market.
Computing and Graphics
The Computing and Graphics segment includes microprocessors and graphic processors used in computers and notebooks. Over the past three years, the company has been looking to reduce its exposure in the PC and notebook market, which is dominated by Intel, with more than 80% market share. In the nine months ended September 2015, AMD earned 44% of its revenue from this segment.
Enterprise, Embedded, and Semi-Custom
The Enterprise, Embedded, and Semi-Custom segment includes processors for server and embedded devices, as well as semi-custom SoCs (System-on-Chip) for the game console. In the nine months ended September 2015, the company earned 56% of its revenue from this segment.
More than 99% of the server chip market is owned by Intel. However, AMD is looking to make inroads in this market with the new x86 Zen architecture, which is expected to be competitive with Intel. Embedded is one space where Intel, Qualcomm, and Nvidia are looking to gain market share.
AMD has been a strong player in the Semi-Custom SoC, winning market share in gaming consoles. It has won orders from all three gaming console makers—Sony, Microsoft (MSFT), and Nintendo.
The PowerShares QQQ ETF (QQQ) has more than 8.0% exposure in the semiconductor market, with a 3.19% holding in INTC and 0.34% in NVDA.