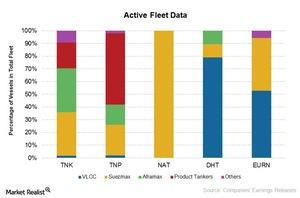 Tanker Fleet Mixes and Their Effects on Company Performance
By Sue Goodridge

Nov. 20 2020, Updated 1:21 p.m. ET
Fleet profile
The fleets that tanker companies employ have several fundamental implications.
Article continues below advertisement
Implications
Larger vessels such as VLCCs (very large crude carriers) are costlier, with higher fixed costs. This means that companies with more VLCCs are more leveraged. Leverage is a double-edged sword. When a company's revenue is high and its costs are fixed, profits see a boost. On the other hand, when revenues are low, higher fixed costs lower profits.
VLCC rates tend to be more volatile. When tanker demand is high, charterers prefer larger vessels like VLCCs. This allows them to transport almost twice the amount of oil in a single trip, whereas VLCC rates are generally not twice that of Suezmax rates. This becomes cost effective for charterers. On the other hand, when tanker demand is low, charterers prefer smaller vessels like Suezmax.
Tanker demand also depends on regional factors. For example, Suezmax vessels are preferred when transporting oil from the Middle East to Europe through the Suez Canal, as fully loaded VLCCs cannot pass through this canal.
VLCCs are generally more in-demand for Asian routes. Recently, the ban to export oil on the US was lifted. The infrastructure of US ports does not support large tankers. Only small tankers, especially Aframax, will be in demand in this region.
Fleet comparison
As of September 2015, DHT Holdings (DHT) has 15 VLCCs, which make up 79% of its total fleet. Euronav (EURN) has 28 VLCCs at 52% of its total fleet. Nordic American Tankers (NAT) owns 22 Suezmax tankers with no presence in other tanker segments. Teekay Tankers (TNK) has 22 Suezmax and 22 Aframax tankers in its total fleet of 64 tankers.
Contexts
At the onset of 4Q15, tanker rates started to climb as refineries completed their maintenance programs. The rate spike was especially lead by VLCCs. In mid-October, VLCC rates reached $100,000 per day for the first time since 2008. Compared to average third-quarter rates, VLCC rates were higher by ~18% in the fourth quarter.
Comparatively, Suezmax and Aframax prices didn't see much of a hike in October, but rates started to pick up in November as European countries concluded their refinery maintenance programs. Though the rise in Suezmax rates lagged the rise in VLCC rates, Suezmax rates were less volatile. Compared to average third-quarter rates, Suezmax rates were higher by 25%. Also, Aframax rates were up by 37%.
For regular updates on tanker rates, investors can visit our Crude Tankers industry page.