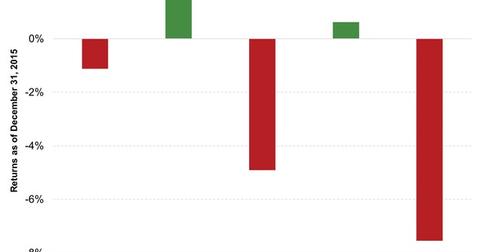 Why the T. Rowe Price European Stock Fund Had a Rough 2015
By David Ashworth

Jan. 25 2016, Published 4:17 p.m. ET
Performance evaluation
The T. Rowe Price European Stock Fund (PRESX) fell 1.1% in December 2015 from the previous month. In the three-month period ending December 31, the fund rose 1.8%. In the six-month period, the fund fell by 4.9%. In the one-year period, the fund has returned just 0.6%. Meanwhile, from the end of December until January 22, the fund has fallen 7.5%.
The fund did not have a good 2015. It ranked eighth for the year among the ten funds in this review. Let's look at what has contributed to this poor performance.
Article continues below advertisement
Portfolio composition and contribution to returns
The PRESX has the second-longest track record among the ten funds in this review. The fund began in February 1990. According to its latest geographical disclosure, companies from the United Kingdom, Switzerland, and Germany are the fund's top three geographies, in that order.
The latest complete portfolio available for the fund is as of September 2015. Thus, we will take that portfolio as our base and consider valuation changes as they stand at the end of December 2015 for our analysis. All portfolio percentages mentioned from here on refer to their weights as per changes in valuation from September to December.
The information technology sector, which forms 7% of the assets, emerged as the biggest positive contributor to the fund's returns in 2015. Denmark-based SimCorp was the main reason the sector was able to contribute the most to the fund's returns. Further, all stock picks from the sector contributed positively.
The consumer discretionary sector, which makes up a fifth of the fund's assets, emerged as a distant second to information technology. Howden Joinery Group, along with a few others, powered the sector ahead. However, Burberry Group (BURBY) and other negative contributors had a substantial impact on the sector's overall contribution.
The positive contributions from Intesa Sanpaolo (IITSF) and UBS Group (UBS) for the financial sector were nearly undone by the Royal Bank of Scotland Group (RBS) and a few others.
Energy and materials emerged as sizable negative contributors, further hurting the fund's returns. The energy sector was led down by Royal Dutch Shell (RDS.B) while materials were led down by Johnson Matthey and BHP Billiton (BHP).
Reasons for poor performance
Detractors across sectors were primarily responsible for the poor performance of the fund in 2015. They led to financials and consumer discretionary sectors contributing far lower than they would have otherwise. Negative contributions by energy and materials just worsened things for PRESX. Had it not been for the flawless performance from components of the information technology sector, the fund would have fared far worse than it did in 2015.
We'll look at the Franklin Mutual European Fund – Class A (TEMIX) in the next article.