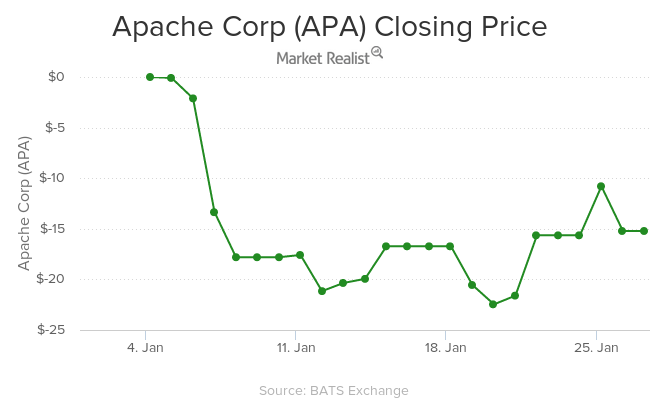 Syria's Civil War, Crude Oil, and Russia: It's Complicated
By Rabindra Samanta

Jan. 28 2016, Updated 6:07 p.m. ET
The civil war in Syria and crude prices
Many experts feel that although the civil war in Syria is based on a political and religious factors, the related conflicts around the region may be responsible for the recent tailspin in the price of crude oil. Investors would do well to note that, at least to some extent, the proxy wars that are being waged on Syrian soil (see Part 2 of this series) are among the top exporters of crude oil in the region. The conflict on the whole, in any case, has divided the Middle East into two groups—one led by Saudi Arabia, the other in collaboration with Russia and Iran.
[marketrealist-chart id=1001092]
Article continues below advertisement
Understanding Russia's hand in the matter
Some experts also believe that Saudi Arabia has pressured Russia to withdraw support from Bashar al-Assad, Syria's president and military commander-in-chief, by lowering crude oil prices. When Russia got involved in Syria on the ground, it led to a larger fiscal deficit for Saudi Arabia as Russia's powerful hand has caused the kingdom's expenditure in support of the groups fighting in opposition to al-Assad to increase. This has caused Saudi Arabia to put increasing amounts of crude on the market to fund its expenditure in the Syrian conflict.
With such a volume of crude on the market, crude prices have gone down. And at such a low price for crude, we have to remember that only volume will drive revenues. This helps explain the high stockpiles around the world over the past four months. But Russian involvement on the Syrian front has divided OPEC (Organization of the Petroleum Exporting Companies) nations, leaving its members struggling for market share. Meanwhile, Iraq's oil production has reached record high levels, and with the sanctions against it being rolled back, Iran is planning to put more oil on the market.
US inventory data for crude as of January 15
The US (SPY) inventory data released for the week ending January 15 shows crude inventory at 486.5 million barrels—100 million barrel more than its five-year seasonal average. As of January 26, the United States Oil Fund (USO) rose by 5.04% on the hope of a deal between top crude oil exporters to cut production, closing on $8.97. Stocks of ConocoPhillips (COP), Pioneer Natural Resources (PXD), and Apache Corporation (APA), meanwhile, rose by approximately 3.4%, 5.4%, and 1.6%, respectively. The graph above shows the MTD performance of Apache Corporation (APA).
Now let's go deeper into the details of why Russia is so invested in Syria.