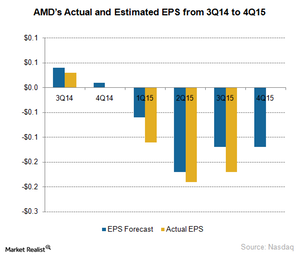 Surprise in Store: AMD's Fiscal 4Q15 Earnings
By Puja Tayal

Jan. 18 2016, Updated 1:31 p.m. ET
Semiconductor fiscal 4Q15 earnings update
The earnings season is here. Intel (INTC) released its fiscal 4Q15 earnings on January 14, 2016. Advanced Micro Devices (AMD) will release its fiscal 4Q15 earnings on January 19, 2016. In Will Intel's Capital Spending in Fiscal 4Q15 Bear Fruit? we explained what to expect from Intel's earnings. Now, let's look at what to expect from AMD's fiscal 4Q15 earnings announcement.
Article continues below advertisement
EPS
On average, analysts expect AMD to post an EPS (earnings per share) of -$0.12 in fiscal 4Q15. It's better than the EPS of $0.47 in fiscal 4Q14. However, looking at the part three quarters of 2015, the company reported more negative EPS than analysts forecasted. If this trend continues, the company will likely report an EPS of more than -$0.12 in fiscal 4Q15.
For full-year 2015, analysts expect the company to report an EPS of $0.54.
Revenue
According to AMD's fiscal 4Q15 guidance, the revenue is expected to be around $954 million—down 10% quarter-over-quarter. It reported 13% quarter-over-quarter revenue growth in fiscal 3Q15. The company expects the seasonal upswing in semi-custom chips to slow. It expects desktop processors and graphic processing unit sales to rise in fiscal 4Q15.
The Semiconductor Industry Association reported a 3.5% YoY (year-over-year) fall in semiconductor sales in November 2015. This confirms slow revenue in fiscal 4Q15. Another factor that will likely impact AMD's fourth quarter revenue is Apple's (AAPL) move to scale back the production of the iPhone 6s and 6s Plus from December 2015 until March 2016. Several Apple suppliers, including Qorvo (QRVO) and Cirrus Logic (CRUS), lowered their revenue guidance for the December 2015 quarter.
Gross profit
AMD expects to post a non-generally accepted accounting principle gross margin of 30% in fiscal 4Q15—compared to 23% in fiscal 3Q15 due to lower inventory. In fiscal 3Q15, the gross margin fell because the company wrote off $65 million worth of inventory.
In the next part of the series, we'll look at the key segments that would drive AMD's growth in fiscal 4Q15. The PowerShares QQQ ETF (QQQ) has more than 8.00% exposure in the semiconductor market. It has a 3.2% holding in Intel (INTC), 0.34% in NVIDIA (NVDA), and 1.5% in Qualcomm (QCOM).