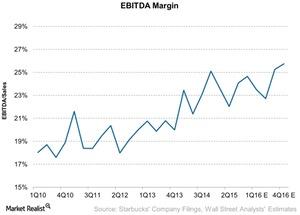 Why Starbucks's EBITDA Margin May Expand in 2016
By Adam Jones

Jan. 15 2016, Updated 4:02 p.m. ET
EBITDA margin
Starbucks's (SBUX) EBITDA (earnings before interest, taxes, depreciation, and amortization) margins have expanded over the years. With 2016 rolling in, there are some positives for the company's margins.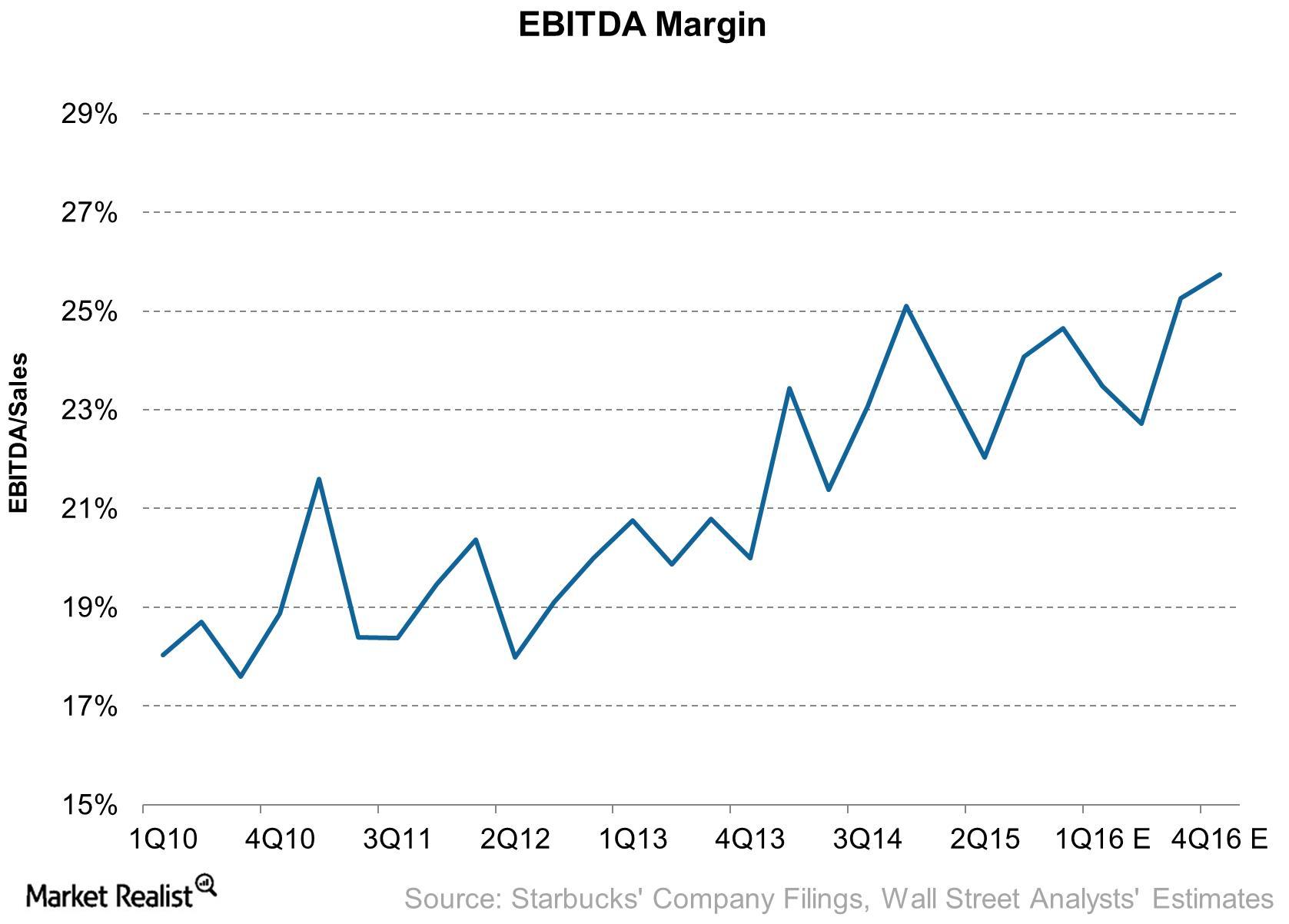 Wall Street analysts are forecasting Starbucks's 1Q16 EBITDA margins to come in at 23.5%, which will be a flat growth from the corresponding quarter in 1Q15. For fiscal 2016, EBITDA margins are forecast to increase to 24.3% from 24% in fiscal 2015 and 23% in 2014. This significant expansion in margins is a result of increasing sales leverage and increasing same-store sales growth.
Sales leverage increases for a restaurant when a company is able to sell more through its retail stores. This way, the fixed costs for occupancy and utilities are spread across a higher sales volume.
You can invest in Starbucks through ETFs such as the Consumer Discretionary Select Sector SPDR ETF (XLY). XLY invests about 4% in Starbucks and also has holdings in other restaurants such as McDonald's (MCD), Yum! Brands (YUM), and Chipotle Mexican Grill (CMG).
Article continues below advertisement
Ownership in Japan
In 2015, much of Starbucks's margin improvements came as a result of fully owning its Japanese stores. This moved the franchised stores to company-operated stores, which according to management has higher gross margins by about 0.5%. As a result of the Japan acquisition, occupancy costs in 2015 declined 3.8%, and sales leverage contributed about a 0.40% increase in margins.
With these increases in margins, operating expenses for the company also increased by 5.9% as a percentage of net revenue and 3% as a percentage of company-operated revenue. With the minimum wage increase in several states and more employees coming on the company's payroll as a part of the Japan acquisition, employee costs increased by 1.5%.
Coffee is one of the most important costs for Starbucks. We'll take a look at that cost in the next part of this series.