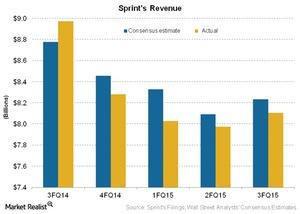 Sprint's Fiscal 3Q15 Revenue Lower than Analysts' Expectations
Sprint's revenue fell in fiscal 3Q15
In the last part of this series, we learned that Sprint's (S) losses decreased on an adjusted basis YoY (year-over-year) during fiscal 3Q15 (calendar 4Q15). Moreover, the telecom company's losses were significantly lower than anticipated by Wall Street analysts. Now let's look at the company's top line. Sprint's revenue again missed Wall Street's expectations. Revenue came in ~1.6% below the consensus estimate. On a YoY basis, Sprint's revenue fell by ~9.7% to ~$8.1 billion during the quarter.
As we can see in the bar chart above, fiscal 3Q15 was the fourth quarter in a row that Sprint's revenue missed Wall Street analysts' expectations. In fiscal 3Q14, the telecom company's revenue surprised Wall Street's analysts with a considerable increase.
Article continues below advertisement
Sprint's revenue fell across both segments in fiscal 3Q15
The declining trend in Sprint's revenues continued in both the wireless and wireline components in fiscal 3Q15. During the quarter, the telecom company's wireline revenue fell by ~16% YoY to ~$0.58 billion. Moreover, its wireless revenue fell by ~9% YoY to ~$7.7 billion.
Sprint's wireless customer metrics in fiscal 3Q15
During fiscal 3Q15, the Sprint platform added ~0.5 million postpaid subscribers on a net basis. Additionally, the customer retention of the carrier also improved YoY during the quarter. The Sprint platform's postpaid churn was ~1.6% in fiscal 3Q15 as compared to ~2.3% in fiscal 3Q14.
For diversified exposure to select US telecom companies, you may consider investing in the SPDR S&P 500 ETF (SPY). At the end of December 2015, SPY held ~2.4% of its portfolio in AT&T (T), Verizon (VZ), CenturyLink (CTL), Frontier Communications (FTR), and Level 3 Communications (LVLT).