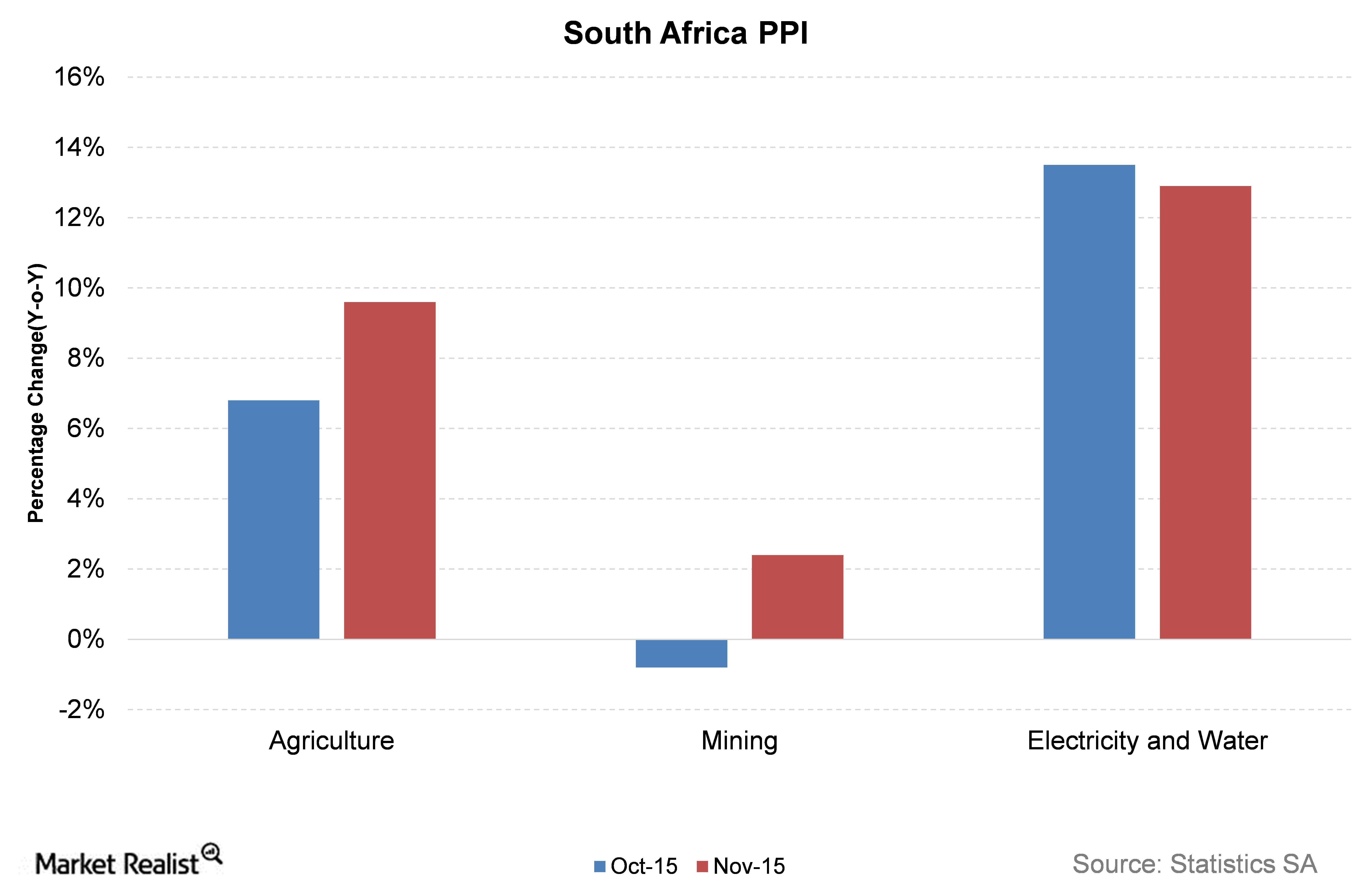 South Africa's Inflation Heads North despite Economic Slowdown
By Pete Raine

Nov. 20 2020, Updated 4:53 p.m. ET
What led to high inflation?
The South African economy has been adversely affected by both global and domestic conditions. The nation's economy was badly affected by the falling commodity prices and subdued global demand. South Africa exports commodities like coal, iron ore, gold, and platinum. On the domestic front, the country's agricultural output was reduced due to adverse weather conditions that made food prices soar. In this part, we'll look into some key reasons for the high inflation.
Article continues below advertisement
South Africa uses PPI (producer price index) to measure inflation. OECD[1. Organisation for Economic Cooperation and Development] defines PPI as the average movement of prices received by domestic producers for goods and services sold in the domestic and export market. While PPI measures price changes from the producer's perspective, CPI (consumer price index) measures the same from the household consumer's perspective.
Sector-wise inflation
South Africa's headline PPI, or the PPI for final manufactured goods, reported in November 2015 was 4.3%. The economy suffers from high unemployment, reduced growth, and adverse global factors. Such factors would lead to lower domestic demand. Inflation, however, is paradoxically high.
The main cause of inflation is the food inflation caused by the contraction in the agriculture and fishing industries' production. We discussed the quarter-over-quarter growth in Part 2 of this series. A fall in production was attributed mainly to South Africa's drought condition. This has led to a sharp inflation in the industry. As of November 2015, the agriculture, forestry, and fishing industry reported an inflation rate of 9.6%.
The mining industry (AU) (GFI) witnessed an inflation rate of 2.4% over the same period. The main reason for inflation in the mining sector was the depreciation of the South African rand against the US dollar. Electricity (SSL) prices also witnessed inflation in the double digits.
The outlook ahead
The South African economy is facing a double whammy of economic slowdown and inflation. The OECD states the outlook for 2016 and 2017 as uncertain and subdued. South Africa needs major reforms to improve the domestic business environment, steps to improve electricity generation, and strong partnerships to improve export ties. The current economic outlook for South Africa isn't upbeat. Investors of Africa-focused funds (CAFRX) (TRAMX) that have a major exposure to South African companies may need to keep watch, as the struggling economy may hamper their portfolio returns.
For more details on mutual funds, please click here.