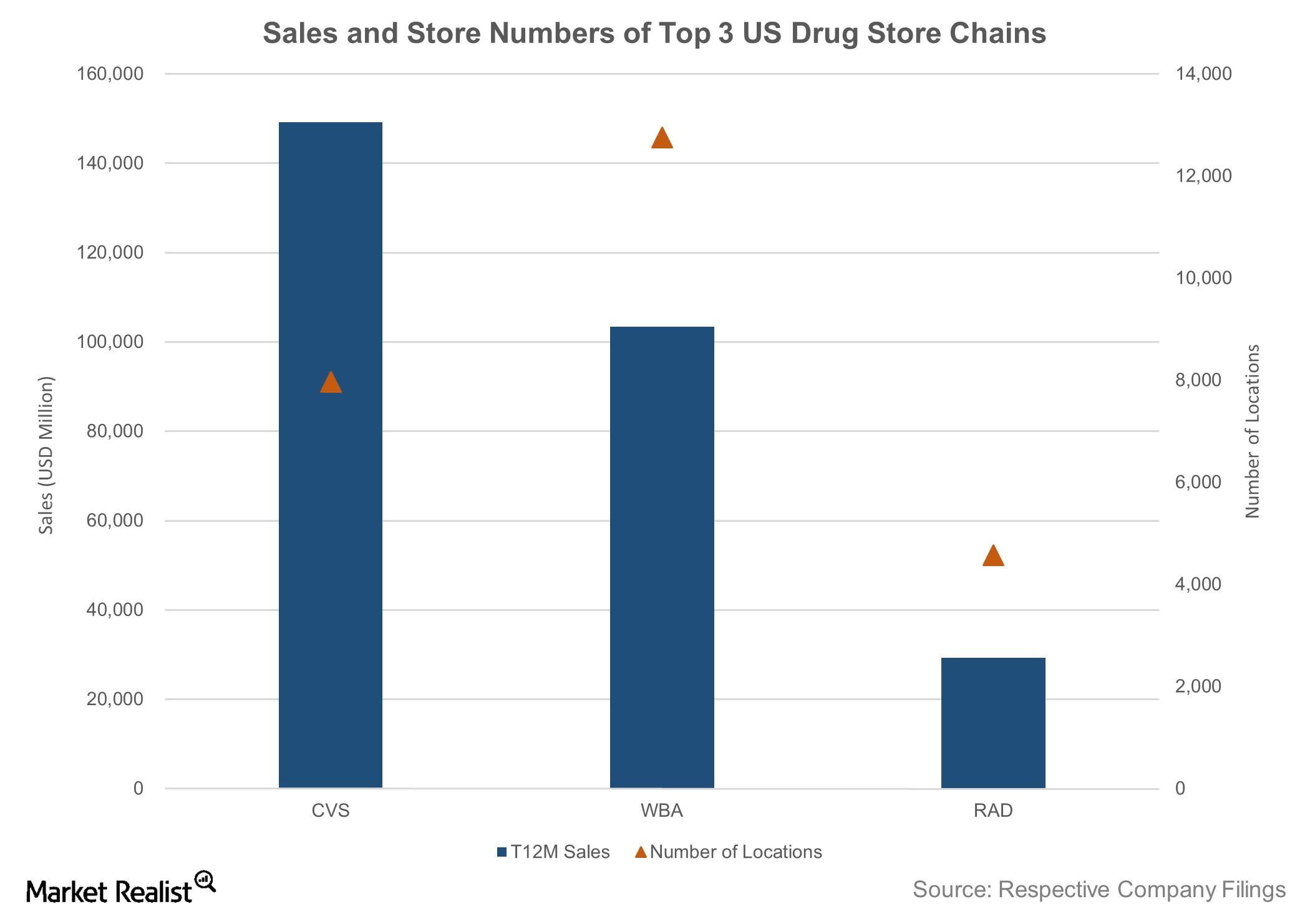 A Snapshot of Walgreens Boots Alliance
By Sonya Bells

Jan. 22 2016, Updated 9:09 a.m. ET
An introduction to Walgreens Boots Alliance
Headquartered in Deerfield, Illinois, Walgreens Boots Alliance (WBA) is the second-largest pharmacy retail chain in the United States in terms of sales and the largest in terms of number of drugstores operated.
Article continues below advertisement
Overview of operations
Walgreens Boots Alliance was created in December 2014 after the Walgreen Company acquired the complete business of Alliance Boots. WBA currently operates through three business segments: Retail Pharmacy USA, Retail Pharmacy International, and Pharmaceutical Wholesale. On October 27, 2015, the company announced its intention to acquire Rite Aid (RAD), the third-largest drugstore chain in the United States.
The company's portfolio of brands includes Walgreens, Duane Reade, Boots and Alliance Healthcare, and a number of health and beauty product brands such No7, Botanics, Liz Earle, and Soap & Glory. As of August 2015, the company had operations in 25 countries.
WBA's Retail Pharmacy USA division operates 8,173 retail store locations and seven specialty pharmacy locations, while its Retail Pharmacy International division operates 4,582 retail store locations. The company owns 15% of its US retail drugstores and 5% of its international retail locations.
Financial performance
Walgreens Boots Alliance reported an EBITDA (earnings before interest, tax, depreciation, and amortization) margin of 5.9% on sales of $103.4 billion in fiscal 2015, which ended August 31, 2015. The company's revenue increased 35% YoY (year-over-year) in fiscal 2015 due to the acquisition of Alliance Boots' remaining 55% stake. Standalone Walgreens revenue grew 6% during the year.
Article continues below advertisement
Competition
CVS Health (CVS), the largest pharmacy chain in the United States, is Walgreens' biggest competitor. Together, CVS Health and Walgreens, with ~7,800 stores and ~8,100 stores, respectively, control more than half of the drugstore market share in 70 of the top 100 metropolitan areas in the United States, according to Barclays' Meredith Adler. The company also faces fierce competition from Walmart (WMT), which operates more than 4,000 pharmacies in the United States, and Kroger (KR), which operates around 2,000 pharmacies.