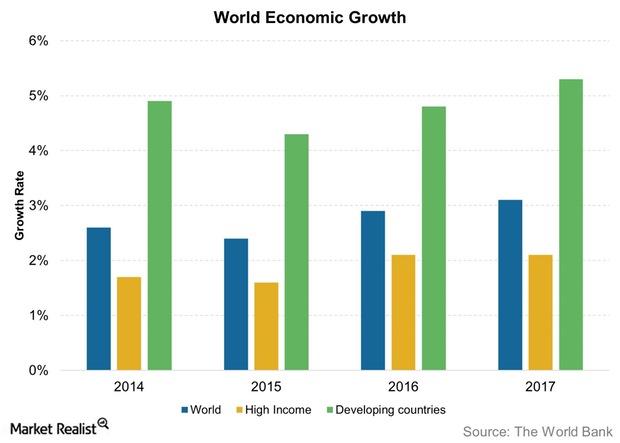 Slow Global Growth: Is the Magic of Emerging Markets Over?
By David Ashworth

Jan. 19 2016, Updated 10:08 a.m. ET
Global economic growth slows
The World Bank released its semiannual Global Economic Prospects report in January 2016. In it, the multilateral institution noted that global economic growth underwhelmed in 2015. The global economy rose by 2.4% in 2015, falling 0.4 percentage points from the estimates released by the World Bank in June 2015. It was also slower than 2.6% in 2014.
The primary reason for this slowdown was slowing growth in major emerging and developing economies. The Bank estimated growth in developing economies at 4.3% in 2015. This was a post-crisis low. It was also lower by 0.4 percentage points from the projections in June 2015 and down from 4.9% in 2014. The report stated that, "In a development unprecedented since the 1980s, most of the largest emerging economies in each region have been slowing simultaneously for three consecutive years."
Apart from emerging and developing economies, commodity exporters like Brazil and Russia have been hit hard due to the fall in commodity exports. This was due to slowing economic growth along with a dive in commodity prices.
Article continues below advertisement
Some bright spots
South Asian countries—led by India—and a few commodity importers from East Asia were counted among the few bright spots by the World Bank.
However, these small bright spots were not enough to reduce the institution's concern regarding the global economy and poverty reduction.
Should investors be concerned?
Investors should be cautious about financial markets in China and most of Latin America as the fragile state of their economies may lead to further capital outflows. Equities from these nations don't feature among the top ten geographies in mutual funds like the Oppenheimer International Growth Fund – Class A (OIGAX) and the Fidelity Diversified International Fund (FDIVX). The latter is invested into companies like Denmark's Novo Nordisk A/S (NVO), Japan's Orix (IX), and Belgium's Anheuser-Busch InBev SA/NV (BUD).
It seems that for the short-to-medium term, investors need to look beyond emerging and developing nations for capital appreciation.
In the next article, we'll look at the outlook of the World Bank for high-income and low-income countries and other country groups.