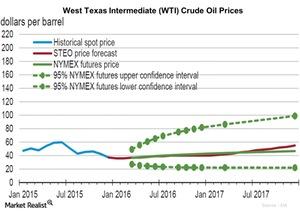 Slippery Crude Oil Price Forecasts Could Beat the Bullish Trend
By Manu Milan

Updated
EIA's crude oil price forecasts
The EIA (U.S. Energy Information Administration) forecasts that WTI (West Texas Intermediate) crude oil prices will average $38 per barrel in 2016 and $47 per barrel in 2017. Brent crude oil prices are forecast $2 per barrel higher in 2016 and $3 per barrel higher in 2017. The EIA's previous estimates stated that the WTI-Brent spread would remain at $5 per barrel. This has been lowered to $2 per barrel in 2016.
Article continues below advertisement
Lower crude oil price forecasts
The EIA projected a minimal difference in the WTI-Brent spread in the January STEO (Short-Term Energy Outlook), but recent changes in the global crude oil markets will have a greater impact on crude oil prices. It's expected that the EIA will revise its forecasts in its STEO next month. Iran's production levels and Russia's positive talks about production cuts changed the overall scenario for the present trend in the global crude oil markets.
A fall in the Chinese rail freight volume by 11.9% in 2015 led to a renewed focus on global crude oil demand growth. Recent declines in crude oil price forecasts from research agencies and banks like Barclays, Goldman Sachs, and Credit Suisse could raise fears among crude oil investors. This could destroy the present bullish sentiment from Russia's step towards production cuts.
Credit Suisse lowered its WTI forecasts from $56.44 per barrel to $37.75 per barrel in 2016. It lowered the forecasts from $63.31 per barrel to $54.25 per barrel in 2017. Brent crude oil price forecasts also lowered from $58 per barrel to $36.25 per barrel in 2016. It lowered from $65 per barrel to $54.25 per barrel in 2017.
Impact
The lower price forecast causes volatility in the crude oil markets. As a result, prices could fall. This is negative for crude oil producers like Murphy Oil (MUR), Anadarko Petroleum (APC), Devon Energy (DVN), and Occidental Petroleum (OXY).
Devon Energy accounts for 1.3% of the Energy Select SPDR (XLE).