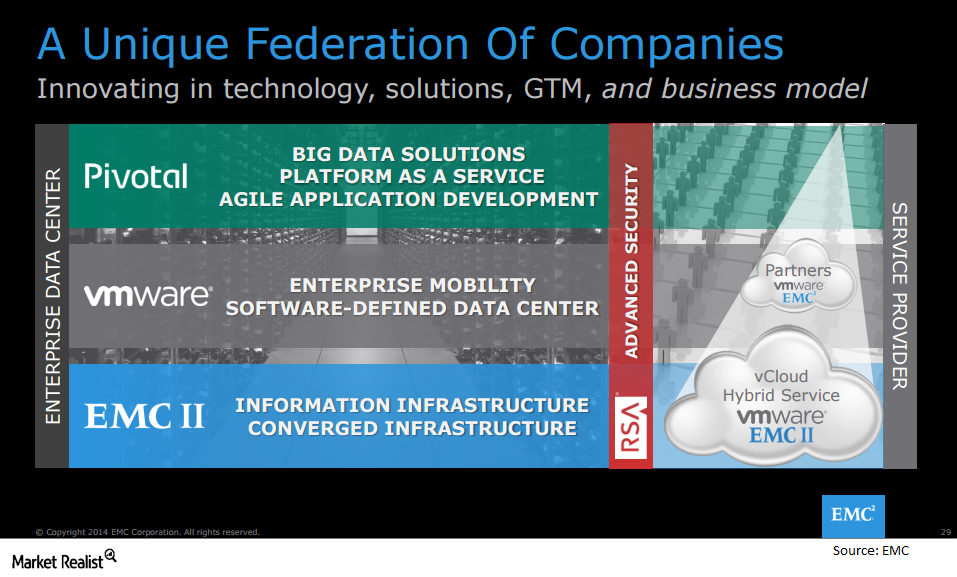 Sizing up the EMC-Dell Merger: A Quick Background Check
By Brent Nyitray, CFA, MBA

Nov. 20 2020, Updated 3:56 p.m. ET
The proxy statement and bigger picture
When a merger is announced, analysts usually have a press release with bare-bones information about the transaction, a conference call and presentation (if applicable), and the merger agreement to work with. But the question usually on the minds of arbitrageurs concerns the process that the company went through to sell the company.
Most companies won't discuss process during their conference call (conference calls are usually for the benefit of the buyer, not the seller), so analysts typically have to wait until the preliminary prospectus comes out to get any color on how the transaction came about. Since Dell is private—it has no shareholders—there was no conference call on the deal. The preliminary prospectus filed on December 14 lays out what happened.
Article continues below advertisement
Understanding the background of the EMC-Dell transaction
The background section of the EMC-Dell merger goes on for 17 pages, which is extremely long. Below is a bare-bones summary.
In July of 2014, Elliott Management notified EMC that it intended to file a Hart-Scott-Rodino and hold an activist stake in the company. Elliott was unhappy with EMC's performance and wanted them to spin off their holding in VM Ware to shareholders. Then, in mid-September of 2014, Michael Dell contacted Joseph Tucci, EMC's Chief Executive officer and Chairman, to gauge EMC's interest in a transaction. Meanwhile, EMC was exploring a potential transaction with an unnamed company ("Company X," as it's unusual for a proxy statement to actually name of the other parties).
The rest of the transaction background lists all the meetings EMC and Dell had with bankers, lawyers, and Elliott over the course of 2015. Notably, Elliott had signed a standstill agreement with the company, and it intended to run a proxy contest once the standstill agreement expired in September of 2015. A deal was reached in October, and Elliott supported the deal publicly after the transaction was announced. During the go-shop period, Morgan Stanley contacted 15 potential acquirers (both strategic and financial), but no one put forth an acquisition proposal.
Merger arbitrage resources
For more analysis of other important merger spreads, you might check out Market Realist's rundown of the deals between Baker Hughes (BHI) and Halliburton Company (HAL) and KLA-Tencor (KLAC) and Lam Research (LRCX). For a primer on risk arbitrage investing, read the series Merger Arbitrage Must-Knows: A Key Guide for Investors. Investors who are interested in trading in the tech sector might also consider looking at the iShares Global Technology ETF (IXN).
But first, let's continue to the final part of this series and analyze why the EMC-Dell transaction spread is so wide.