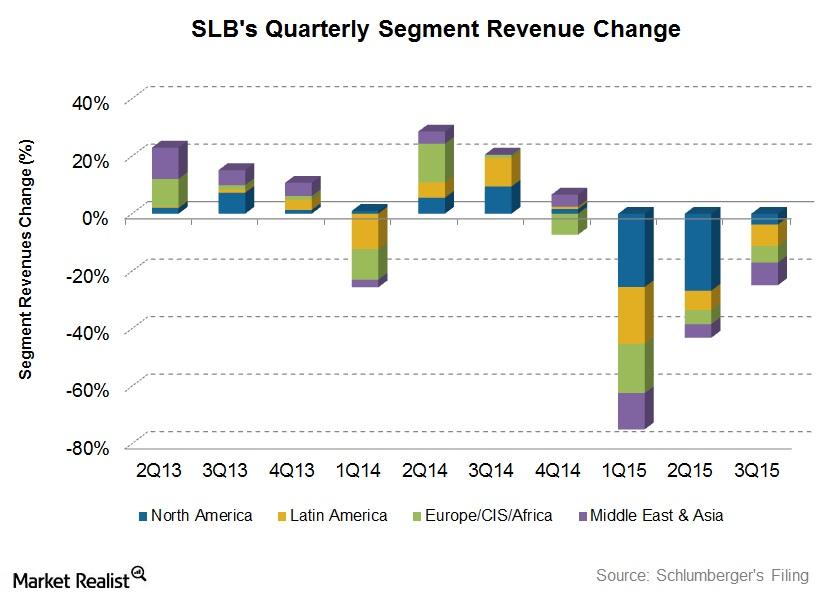 Schlumberger: A Look at Management's Outlook and Strategies
By Alex Chamberlin

Jan. 19 2016, Updated 12:06 p.m. ET
CEO's comment on coming quarters
Schlumberger's (SLB) CEO and chairman Paal Kibsgaard sounded cautious in describing the outlook for the coming quarters, as soft energy prices are expected to weigh on the oilfield services and equipment industry. In the 3Q15 press release, he stated that "for oilfield services, the market outlook for the coming quarters looks increasingly challenging with activity expected to be reduced further, as lack of available cash flow exhausts capital spending for a number of our customers, leading them to take a conservative view on 2016 E&P[1. exploration and production] spending in spite of any gradual improvement in oil prices. In addition, the winter season will have the normal impact on activity in the fourth quarter, which this year is unlikely to be offset by the usual year-end sales of software, products and multiclient licenses."
The reasons for the weak energy environment have been analyzed by Schlumberger's management. These include the following:
reduced growth in Chinese demand
timing and magnitude of Iranian supply resumption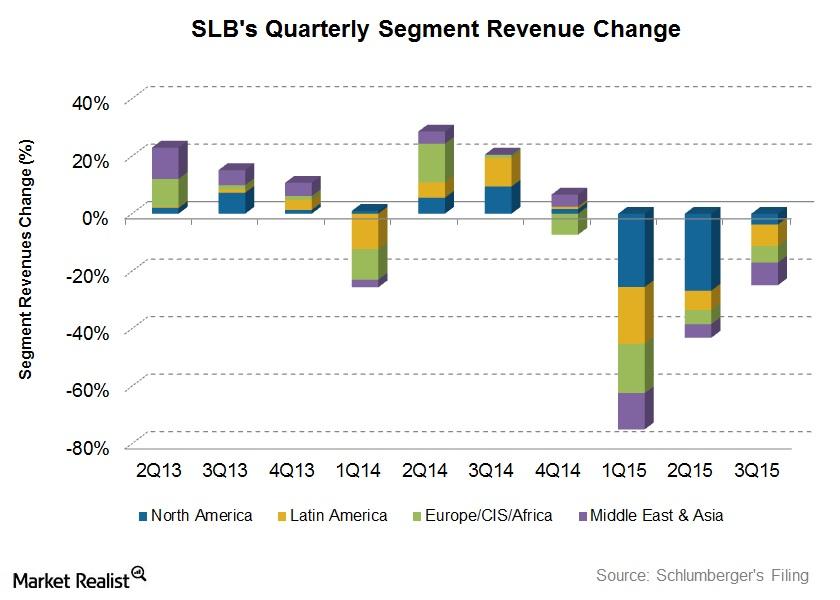 Article continues below advertisement
In fiscal 3Q15, Schlumberger's North American territory saw lower revenues than in fiscal 2Q15, but the pace of the fall was slower than that of the previous quarter. In Schlumberger's other international regions combined, the fall in fiscal 3Q15 revenue was steady compared with that of the prior quarter. RPC (RES), Schlumberger's smaller peer, saw its fiscal 3Q15 revenues decline by 2% from fiscal 2Q15. Schlumberger makes up 7% of the Vanguard Energy ETF (VDE). For investors looking for exposure to the oil and gas equipment and services industry, it makes up 15.6% of VDE.
Schlumberger's earnings drivers
Schlumberger's earnings drivers are as follows:
a continued reduction in Schlumberger's pressure pumping activity as demand for exploration-related products and services decreased further internationally
sustained cuts in exploration-related spending, which negatively affected its wireline and testing activities in Europe, the Commonwealth of Independent States, Africa, the US Gulf of Mexico, and Australia
more pressure on pricing in its international activities impacted its drilling and measurement services and M-I SWACO, which supplies drilling fluid systems for wells
Schlumberger's stance on countering crude oil price weakness
Energy price recovery is taking longer than Schlumberger's management had anticipated. Schlumberger, which was anticipating a quicker turnaround a couple of quarters ago, had to alter its capex and investment plans. Its cost structure also had to be modified, leaving room for further restructuring charges in the near quarters. Next, we'll discuss Wall Street analysts' targets for Schlumberger.