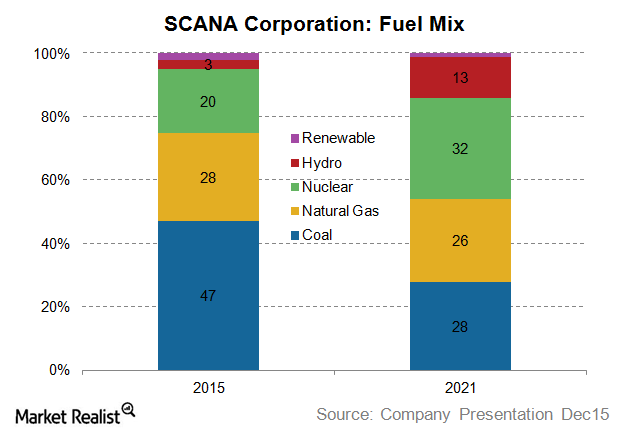 SCANA's Main Energy Source to Shift from Coal to Nuclear
By Vineet Kulkarni

Jan. 5 2016, Updated 1:01 p.m. ET
SCG's fuel mix
Coal is a major energy source in SCANA Corporation's (SCG) fuel mix. It accounted for nearly 47% of total electricity generation in 2015. However, SCANA is switching from coal to nuclear as its main energy source due to stringent regulatory norms. By 2021, coal-fueled facilities would contribute roughly 21% of total power while nuclear would contribute 32%. Power from water and related renewable sources is also expected to increase substantially in the next five years according to SCANA's management.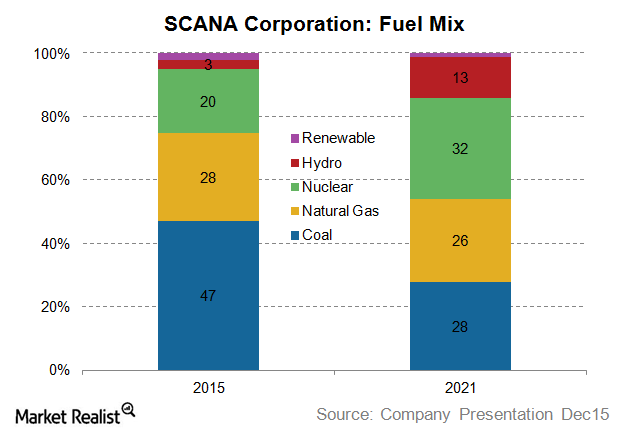 Article continues below advertisement
Nuclear facilities
SCANA's reliance on nuclear energy can be seen through its construction of a 1,117-megawatt nuclear power plant in South Carolina. However, an announcement in October 2015 by South Carolina Electric and Gas Company (or SCE&G), a principal subsidiary of SCANA, amended the construction and engineering agreement for this nuclear plant in Summer Station. The new nuclear facility construction cost is said to have risen by $286 million to $7.1 billion. The amendment also revised the completion dates of the two units to August 2019, a delay of over two months. These nuclear power plants could—when operational—reduce the usage of coal by 15%.
GENCO is the subsidiary of SCANA that looks after the power generation segment. It has a capacity of 605 megawatts, and it sells the generated power only to SCE&G. It sometimes may also procure power from third party purchases to serve customers.
Coal in power generation
Coal (KOL) is a popular traditional energy source among power producers. The cost benefit and energy efficiency of coal are much higher compared to other sources. But, utilities (XLU) are switching from coal to other sources due to coal's negative environmental effects. Heavy coal in power generation is used by Duke Energy (DUK), American Electric Power (AEP) and FirstEnergy (FE).