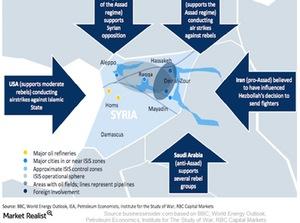 Saudi Arabia's Strategic Importance to the United States
By Rabindra Samanta

Jan. 4 2016, Updated 9:37 a.m. ET
The importance of Saudi Arabia to the United States
Saudi Arabia is an important ally of the United States (SPY) in the Middle East. Many terrorist activities against Western nations come from the region. Additionally, a significant portion of the crude oil imports for the United States and European countries (FEZ) comes from the Middle East and OPEC[1. Organization of the Petroleum Exporting countries]. Since Saudi Arabia leads OPEC, it ensures a regular supply of crude oil to these markets. Saudi Arabia is also a strategic point in the fight against terrorism in the Middle East.
Article continues below advertisement
The presence of Russian forces in Syria led to a complex power equation in Eurasia. Iran is backing Russia while NATO—led by the United States—needs Saudi Arabia to confront Russia (RSX). As Russia senses the United States as a threat to its national security, the United States can't ignore the growing influence of Russia in the Middle East. The graph above shows the stance of different nations on Syria.
Saudi Arabia as a strategic ally for the US to tackle Iran
The relationship between the United States (SPY) and Iran hasn't been as friendly as it used to be since 1979. The two countries communicated after the new government was elected in Iran. Iran opposed the US invasions of Afghanistan and Iraq. The United States also imposed bans on Iran, curbing the latter's international trade in the US dollar and limiting its oil exports. The ban was imposed due to Iran's nuclear program and is supposed to be lifted in January 2016.
Iran is getting ready for international trade. The ban crippled Iran's economy, and experts think that the economic slowdown led to the election of a new government in Iran in 2013. US oil and gas companies such as ConocoPhillips (COP), ExxonMobil (XOM), Chevron (CVX), and others don't have any exposure to Iranian soil. Moreover, the US financial system doesn't allow any US-based entity to have any direct or indirect transaction with Iran.