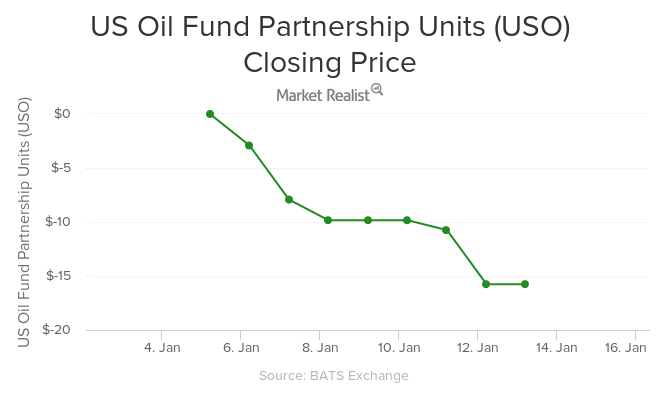 What Could Saudi Arabia's Plan to Dilute Assets Mean for Crude Investors?
By Rabindra Samanta

Jan. 13 2016, Updated 1:48 p.m. ET
Crude investors are selling Aramco's stock
As of January 11, 2016, crude oil was trading close to its 12-year historical low. Many analysts argue that crude is set to jump, meaning it may not remain at these low levels for a very long time. But the recent decision of investors to sell stock in Aramco is hitting the financial media just as crude hits this multiyear low, and other financial media sources are suggesting that even if you do not sell your stake in Aramco, you might consider selling joint ventures of Aramco downstream.
Article continues below advertisement
That said, investors must understand that Saudi Arabia's dilution of its assets is related to the financial health of the kingdom, where more than 85% of total revenues come from crude oil. We should also emphasize the bearish vision that the world's top exporter of crude oil has on the commodity right now.
[marketrealist-chart id=962620]
Series overview
In this nine-part series, we'll analyze the various economic and geopolitical factors that Saudi Arabia is encountering in the current slumped crude oil situation. We'll also focus on the most up-to-date moving averages and analyst estimates of upstream, downstream, and midstream companies while looking at the competition posed by renewable energy. Below you can access any part of the series:
The hot truth: upstream stocks are feeling the burn of low crude oil prices
Upstream stocks will soon be down by more than 50% from the highs of mid-2014, when crude oil began its current epic fall. Crude has fallen nearly fourfold from its peak in 2014. Meanwhile, the United State Oil Fund ETF (USO) is down by 16% on a MTD (month-to-date) basis.
Other US-based (SPY) E&P (exploration and production) companies like Exxon Mobil Corporation (XOM), Chevron Corporation (CVX), and Occidental Petroleum Corporation (OXY) fell by 3.5%, 8.6%, and 9.8%, respectively, on a MTD basis. The graph above shows the MTD performance of USO.
In the next part of this series, we'll discuss the crucial geopolitical tensions surrounding Saudi Arabia and how these have been impacting the country's crude oil situation so far in 2016.