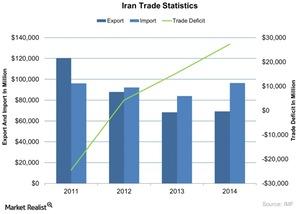 Saudi Arabia May Not Want Sanctions on Iran to Be Lifted
By Rabindra Samanta

Jan. 4 2016, Updated 9:40 a.m. ET
Saudi Arabia may not want Iran's sanctions to be lifted
Iran and Saudi Arabia are two prominent members of OPEC[1. Organization of the Petroleum Exporting Countries]. The sanctions on Iran by a number of countries led by the United States (SPY) limit the role of Iran in the international crude oil market. This gives Saudi Arabia a chance to lead in OPEC as well as in the Middle East. Iranian oil exports are unlikely to find more market share in North America. Still, a lifting of sanctions on Iran could be a challenge for the Saudi regime in Asia and Europe.
Article continues below advertisement
Saudi Arabia's direct oil export through the sea is possible only in two ways, one is through the Bab el-Mandeb strait, and the other runs parallel to Iranian water boundaries. In both cases, Iran's growing geopolitical influence can harm Saudi Arabia's oil export. Moreover, Iraq, a neighboring country to Saudi Arabia, is witnessing high influence by the Shia community. All this implies that growing Shia power may push Sunni-majority countries into various geopolitical issues.
Saudi Arabia announces a rise in the tax rate
Recently, Saudi Arabia announced that taxes will rise. This signifies that there is growing pressure on the kingdom to sustain its expenditure on different war fronts—in Syria and Yemen—along with its normal course of expenditure. Crude oil constitutes more than 75% of the country's revenue. Also, revenue is already at lower levels.
Oil export accounts for more than 85% of Saudi Arabia's total export. Experts feel that the country is engaged in a proxy war with both Russia (RSX) and Iran in both Syria and Yemen.
Gazprom PAO (OGZPY), Lukoil (LUKOY), and Tatneft (OAOFY) represent the large-cap Russian ADRs (American depositary receipts) in the oil and gas sector. In the next part of the series, we'll discuss the strategic importance of Saudi Arabia to the United States.