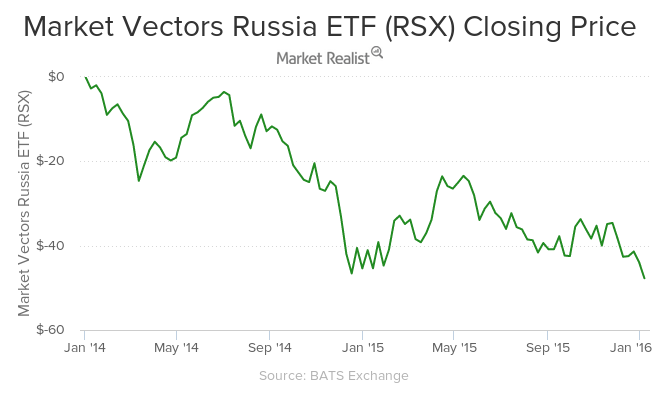 Russia's Growing Influence in the Middle East—and How It's Sitting with Saudi Arabia
By Rabindra Samanta

Jan. 13 2016, Published 1:48 p.m. ET
Understanding Russia, Saudi Arabia, and Syria
To begin with, investors should understand that although the current geopolitical tensions in the Middle East are on religious grounds, such tensions can still affect the dynamics of the crude oil market. Middle East countries as net exporters of crude oil are still dominating factors in determining crude oil prices.
We should also remember that Syria's Assad regime is supported by the Shia community, where the opposition from the so-called rebel groups in the country represents the Sunni population of that region. This Sunni rebel group has been supported by Saudi Arabia, whereas Russia and Iran are backing Assad in Shia-dominated Syria. To be sure, the kingdom is experiencing heavy expenditures in supporting the fight of these rebel groups in Syria. With Russia involved in Syria, Assad's war against both the rebel groups and ISIS, or the Islamic State, has intensified. And this directly impacts Saudi Arabia's pocket as they finance their end of the war.
[marketrealist-chart id=962701]
Article continues below advertisement
Theories behind Russia's presence in Syria
Experts say that Saudi Arabia in mid-2015 wanted Russia to withdraw support from the Assad regime. The kingdom also pressured Russia by not cutting crude oil production and lowering crude oil prices, as Russian (RSX) economy is highly dependent on crude oil. But soon after that, Moscow decided to start airstrikes against ISIS and other rebel groups.
As Russia and Saudi Arabia are the most prominent players in the global crude oil market, their direct conflict indicates a market share war with each other. Moreover, we might infer that Russia's presence in Syria is what has pressured Saudi Arabia to cut crude production and raise crude prices in order to sustain expenditures on Syrian fonts. But Saudi Arabia is neither cutting the production nor withdrawing support from the rebel groups fighting against Assad in Syria, and experts are suggesting that the target of Saudi Arabia's asset dilution is just one of many measures that the kingdom has taken to sustain its fiscal deficit. Russia and Saudi Arabia are also strong competitors in Europe (FEZ) as well as in Asia's crude oil markets.
Gazprom Pao (OGZPY), Lukoil Pao (LUKOY), and Tatneft Pao (OAOFY) represent large-cap Russian ADRs in oil and as a sector. The graph above shows the performance of RSX since crude oil started its plunge.
In the next part of this series, we'll discuss the growing geopolitical tensions between Iran and Saudi Arabia.