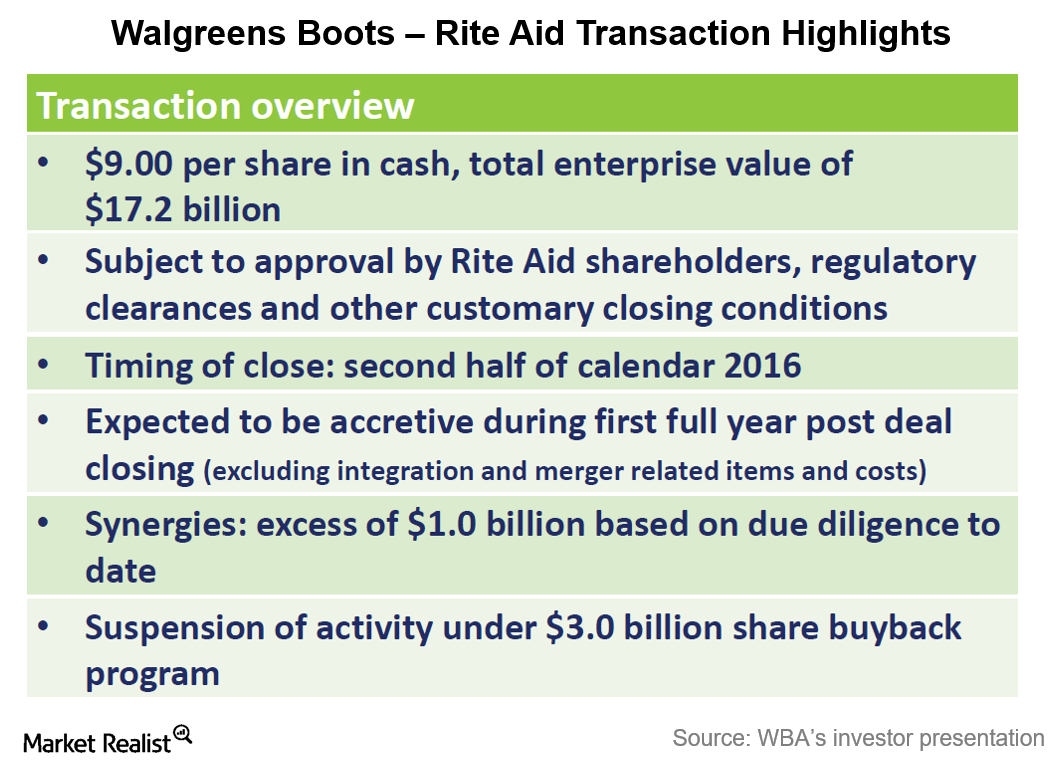 The Rite Aid Acquisition in Detail
By Sonya Bells

Jan. 20 2016, Updated 2:45 p.m. ET
Acquisition announcement
On October 27, 2015, Walgreens Boots Alliance (WBA) announced its intention to acquire Rite Aid (RAD) for a total enterprise value of approximately $17.2 billion, including the acquired net debt of $7.3 billion. The deal, if completed, will combine the second- and third-largest drugstore chains by market share in the United States. CVS Health (CVS) is the largest drugstore chain in the country.
Article continues below advertisement
Deal details
Walgreens agreed to pay $9 per share in cash to Rite Aid's shareholders, which included a premium of 48% to the closing share price of Rite Aid prior to the announcement of the deal.
Walgreens Boots will finance the transaction through a combination of existing cash, assumption of existing Rite Aid debt, and issuance of new debt. Upon completion of the acquisition, Rite Aid will operate as a wholly owned subsidiary of Walgreens Boots Alliance. The transaction is likely to close in the second half of the calendar year 2016, though it has yet to be approved by Rite Aid's shareholders and regulatory authorities.
The transaction is expected to be accretive to Walgreens Boots' bottom line in the first full year after completion. Walgreens Boots also expects to save more than $1 billion in synergies.
Latest update
On December 11, 2015, Walgreens Boots and Rite Aid reported having received a request for additional information, or the second request, from the Federal Trade Commission in regards to the acquisition. This second request is a standard part of the regulatory process.
ETF exposure
The target company Rite Aid (RAD) and the acquiring company Walgreens Boots Alliance (WBA) are part of the Vanguard Consumer Staples ETF (VDC), in which they have a weight of 4% and 0.5%, respectively. Both the companies are also part of the SPDR S&P Retail ETF (XRT), with Rite Aid having a weight of 0.98% and Walgreens making up 0.94% of the ETF.