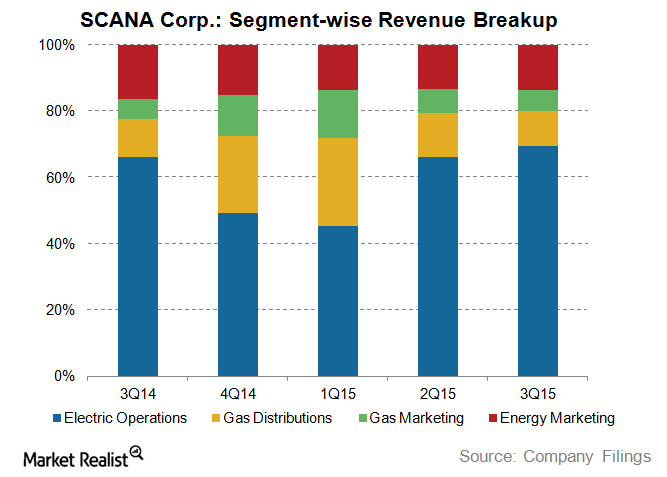 A Rise in SCANA's Customer Base Could Drive Future Growth
Segment-wise revenue breakup
Electric operations are the major revenue source for SCANA Corporation (SCG). In 3Q15, nearly 70% of revenue came from its electric segment. SCANA's revenues from electric operations are expected to rise in the near future despite the slow demand for electricity. This hike could mainly be driven by a rise in the number of customers and rate base growth.
Article continues below advertisement
Electric operations
For the period from 2015–2017, SCE&G (South Carolina Electric and Gas) expects total retail electricity sales to rise by 1.1% annually and the total electric customer base to rise by 1.8% annually, assuming normal weather. SCE&G is a principal subsidiary of SCANA and serves electricity to nearly 700,000 customers in South Carolina. SCANA's transmission system extends over a large part in South Carolina and connects Duke Energy (DUK) and Southern Company's (SO) Georgia Power.
Gas operations
SCANA operates its natural gas business in both regulated and unregulated segments. In 3Q15, total gas operations accounted for nearly 30% of the parent company's total revenues. For the period from 2015–2017, total regulated natural gas sales are expected to rise by 1.2% annually. In the same period, the customer base of SCANA for its gas business in projected to rise by 2.4%. SCE&G serves natural gas to approximately 338,000 customers. In the case of high demand, SCE&G may use the natural gas (UNG) storage facilities of Dominion Resources' (D) Dominion Transmission and Spectra Energy (SE) as based on the service agreements.
Energy marketing
SEMI (SCANA Energy Marketing, Inc.) takes care of natural gas marketing and provides energy-related services in wholesale markets. The revenues from wholesale markets have been falling from the recent past due to falling power prices.