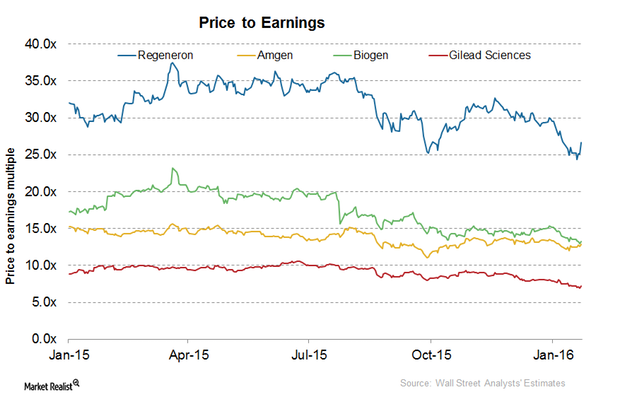 Regeneron Continues to Trade at Premium
By Jillian Dabney

Dec. 4 2020, Updated 10:53 a.m. ET
Regeneron's valuation
Regeneron Pharmaceuticals (REGN) is consistently trading at a premium compared to its peers. The valuation multiple of a biotechnology company broadly depends on the potential for success of its pipeline drugs.
The above graph details the PE (price-to-earnings) ratio for Regeneron compared with peers like Amgen (AMGN), Biogen (BIIB), and Gilead Sciences (GILD).
Article continues below advertisement
Relative valuation
As of January 22, 2016, Regeneron was trading at a valuation multiple of 26.67x its earnings. For the day, the PE ratios for Amgen, Biogen, and Gilead were 12.86x, 13.27x, and 7.18x, respectively.
Although the discounted cash flow is the preferred method for valuing a company, the prerequisite of a number of inputs based on analysts' assumptions makes it a complicated technique. The relative valuation is an easier method to analyze a company's performance. However, choosing correct industry peers is a major challenge for the methodology.
Historically, Regeneron's net margins have been lower compared to its industry peers. With three commercialized products, the net margins were 9%–21% over the past ten quarters. The company invests heavily in R&D (research and development) for pipeline molecules. With Eylea's continuous label expansion program, it's incurring higher R&D expenses.
Biotechnology investors presume a company is more valuable if it has a more promising pipeline. The hefty R&D expense combined with success in the phase of development of a molecule contribute toward a company's future earnings opportunities.
Article continues below advertisement
Fundamentals of Regeneron
Regeneron has a robust pipeline of drugs. This pipeline might be one of the reasons investors are valuing Regeneron more than its peers despite its lower operating margins.
These various molecules are being developed in collaboration with Sanofi, Bayer, and Mitsubishi.
The above chart shows various pipeline candidates and their respective clinical development phases. Excluding Praluent, Regeneron has four late stage molecules.
Regeneron's robust late stage development pipeline 
The company has four drugs in the late stage of development.
Sarilumab – treats rheumatoid arthritis
Dupilumab – treats a variety of allergic and atopic diseases
REGN2222 – targets respiratory syncytial virus
Fasinumab – NGF antibody for treating osteoarthritis-related pain
The company submitted a Biologics License Application to the U.S. Food and Drug Administration for Sarilumab. Regeneron plans to launch the drug in 2016. Dupilumab might get launched in 2017.
The success or failure of any of the pipeline could cause volatility in the stock. To avoid direct risk exposure, investors can opt for the iShares Nasdaq Biotechnology ETF (IBB). IBB holds 6.8% of its total holdings in Regeneron stock.