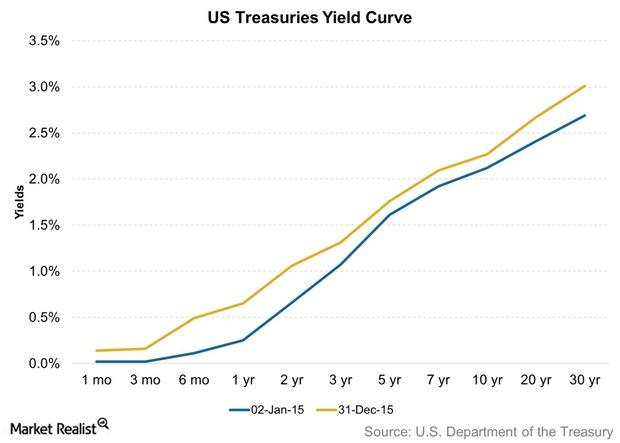 A Refresher on US Treasuries in 2015
By David Ashworth

Jan. 14 2016, Published 3:10 p.m. ET
US Treasuries: An eventful 2015
Yields on US Treasuries rose across the yield curve in 2015.
The graph above plots yield curves as they stood at the beginning and the end of 2015. The sharpest rise in yields was seen in the short end of the yield curve, with yields on the 2-Year Treasury note jumping by 40 basis points. Compared to this, intermediate-term maturities saw a much smaller rise. Meanwhile, yields jumped by 32 basis points on the 30-Year bond in the period.
This means that mutual funds investing in intermediate-term Treasuries, including the MFS Government Securities Fund Class A (MFGSX), did better in 2015 than those investing in long-term Treasuries, including the Wasatch-Hoisington U.S. Treasury Fund (WHOSX).
What were the factors that impacted US Treasuries in 2015?
Article continues below advertisement
Rate-hike concerns
Treasury yields moved on every piece of news that indicated either an approaching rate hike or a rate-hike delay. The 2-Year Treasury note, which is directly impacted by changes in the federal funds rate, saw its yield ranging from 0.44% to 1.09% in 2015, a swing of 65 basis points.
While the lower end of the range was seen in January 2015, the higher end was seen after the rate hike, as December came to a close.
Utilities such as NRG Energy (NRG), Ameren (AEE), and Duke Energy (DUK) were quite happy with the move, as they rose sharply on the day of the hike.
Economic indicators
Inflation remained the key nemesis for the rate hike throughout the year, and at one point, it almost single-handedly ensured a postponement to 2016. On the other hand, the job market was robust for the most part, as far as job additions were concerned. It would not be far-fetched to say that the strength of the labor market was the primary reason, apart from trying to preserve its credibility, that the Fed decided to hike rates.
Geopolitical concerns regarding Greece, the Middle East, and China led investors to the safety of US Treasuries at different points in time in 2015.
In the next article, we'll evaluate how Treasury spreads panned out in 2015.