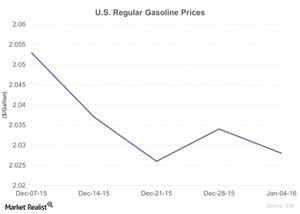 Refinery Maintenance Could Raise Gasoline Prices
By Manu Milan

Updated
Gasoline prices
The EIA's (U.S Energy Information Administration) most recent weekly gasoline and diesel fuel price report showed that US regular gasoline retail prices averaged $2.02 per gallon yesterday. Retail gasoline prices fell by 0.29% from the previous week's price of $2.03 per gallon recorded on December 28, 2015. Additionally, current gasoline prices are ~8.4% lower than the prices in the corresponding period last year.
Article continues below advertisement
Gasoline prices by region
Yesterday's average price of regular retail gasoline was $2.66 per gallon in the West Coast region. The Rocky Mountain, Midwest, and East Coast regions' gasoline prices were $1.96 per gallon, $1.86 per gallon, and $1.99 per gallon, respectively. The Gulf Coast's regular retail gasoline price was $1.75 per gallon.
Gasoline prices could get boost in February
The global supply glut in the crude oil markets has allowed motorists to enjoy cheap gasoline prices. Crude oil accounts for more than 60% of gasoline prices. Thus, the fall in crude oil prices resulted in lower gasoline prices.
Gasoline prices have fallen in the last week due to an increase in gasoline inventories. An increase in refinery inputs also raised concerns about a further rise in gasoline inventories. An increase in inventories during the holiday season signals a drop in gasoline demand.
Article continues below advertisement
Gasoline demand generally falls in the winter due to less traveling, which could result in lower prices in January, but gasoline prices should rise in February. Given the busy summer season, the advance refinery maintenance will result in lower production, which could lead to a slight recovery of gasoline prices.
The American Automobile Association's (AAA) fuel gauge report estimates that gasoline prices will average between $2.25 per barrel and $2.45 per barrel in 2016.
The fall in gasoline supplies due to summer maintenance could lead to higher prices, but the decreased production volumes could increase operational costs. A rise in operational costs impacts the profitability of refineries such as Tesoro (TSO), Valero Energy (VLO), Western Refining (WNR), PBF Energy (PBF), Phillips 66 (PSX), and CVR Refining (CVRR).
Phillips 66 (PSX) makes up 7.5% of the iShares U.S. Oil & Gas Exploration & Production ETF (IEO).