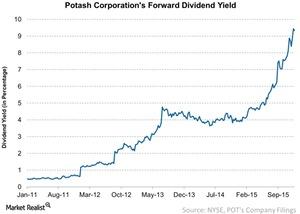 Analyzing Potash Corporation's Dividends before Its 4Q15 Results
Dividends
One of the most anticipated topics for investors in the upcoming 4Q15 earnings update for Potash Corporation (POT) will be its dividends. As of January 18, Potash Corporation's forward dividend yield was 9.3%, which has soared higher since its last earnings release when the forward dividend yield was around 7.6%.
Article continues below advertisement
Forward dividend yield
Forward dividend yield is calculated by taking the next-12-month projected dividends over the current stock price. The projection can be made by annualizing the company's most recent dividend payout, which was $0.38 per share. Since the company has made no announcement about cutting its dividends since the last earnings call, its dividend yield has risen primarily because of deterioration in share prices, which were trading around $16.3 on January 19.
Potash Corporation (POT), the Mosaic Company (MOS), CF Industries Holdings (CF), and Agrium (AGU) form about 14% of the VanEck Vectors Agribusiness ETF (MOO) portfolio.
Cash obligation
Assuming that Potash Corporation doesn't repurchase any shares in the next four quarters and maintains its current dividend levels of $0.38 per share, the company's dividend obligation over the next four quarters comes to $1,298 million.
Since dividends are distributed from cash flows left after capital expenditures, it is helpful to see what analysts are expecting in terms of free cash flow. We'll discuss this in the next article.