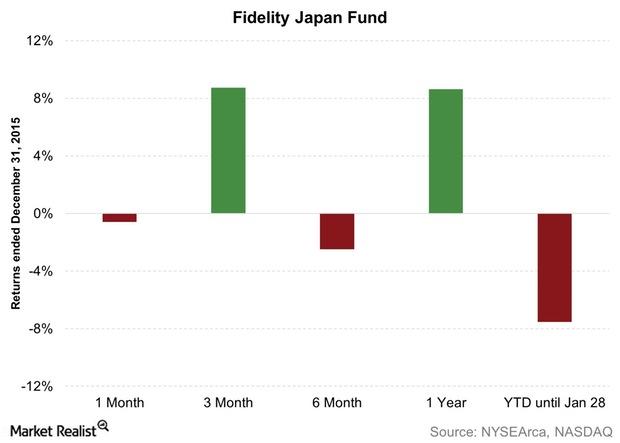 The Reasons for the Poor Showing by Fidelity Japan Fund in 2015
By David Ashworth

Jan. 29 2016, Published 4:53 p.m. ET
Performance evaluation
The Fidelity Japan Fund (FJPNX) fell 0.6% in December 2015 from the previous month. In the three- and six-month periods ended December 31, 2015, the fund has risen 8.7% and fallen 2.5%, respectively. In the one-year period that we will analyze, the fund has risen 8.6%. From the end of December 2015 until January 28, 2106, the fund has declined 7.5%.
Among the six funds in this review, FJPNX was the only one whose returns for 2015 were in the single digits. It ranked last among these funds with respect to its returns. Let's look at what held the fund back in 2015.
Article continues below advertisement
Portfolio composition and contribution to returns
Launched in September 1992, the Fidelity Japan Fund (FJPNX) has a substantial track record. Because the latest available complete portfolio of the fund is as of November 2015, we will consider that as our base. For December 2015, we will consider the valuation changes for our analysis. All portfolio percentages refer to their weights according to changes in valuation from November to December 2015.
The consumer discretionary sector was the biggest positive contributor to the fund's returns in 2015. E-commerce company Rakuten, Inc. was by far the biggest positive individual contributor from the sector, followed by Honda Motor Co., Ltd. (HMC). Sony Corporation (SNE) also contributed positively. However, Mazda Motor Corporation (MZDAF) was a sizable detractor.
Consumer loan company Acom Co. Ltd. was the biggest positive contributor to financials. ORIX Corporation (IX) and Tokio Marine Holdings Inc. (TKOMY) also contributed a sizable portion to the sector's returns. However, negative contributions from Sumitomo Mitsui Financial Group (SMFG) and Mitsui Fudosan, among others, reduced some of the positive contributions.
Article continues below advertisement
The information technology sector was the biggest drag on the fund's returns. Even after positive contributions from Shimadzu Corp. and Kakaku.com, among a few others, negative contributions by Hitachi Ltd. (HTHIY) and SUMCO Corporation core Sanken Electric Co. overpowered the positive contributors. Materials were also negative contributors for 2015 for the same reason.
Reasons for poor performance
The Fidelity Japan Fund (FJPNX) did not have a good 2015 as its stock picks from the information technology and materials sectors did badly during the year. Although its core sectors contributed positively, their contributions were reduced due to the presence of detractors. Coupled with negative sector contributions, this influenced the fund's poor performance for 2015.
Let's move on to the Hennessy Japan Fund – Investor Class (HJPNX) in the next article.