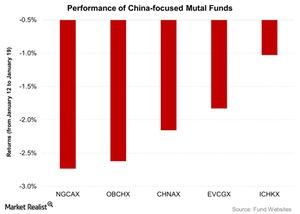 Reading the SSE Composite Index's Reaction to China's Latest GDP Data
By Lynn Noah

Jan. 20 2016, Updated 12:01 p.m. ET
The Shanghai Stock Exchange (SSE) Composite Index
The SSE Composite Index was down marginally by 0.5% from January 12 to January 19, after the release of GDP (gross domestic product) data for 2015, closing at 3,007.7 points on January 19, 2016. China's latest GDP data came in line with market expectations and grew at 6.9% in 2015, as the Chinese economy has been cooling down. This represents China's slowest growth rate since 1990.
Article continues below advertisement
What Marc Faber has to say about China's GDP
Marc Faber of The Gloom, Boom & Doom Report said to CNBC that his "sense is that, at the very best, [China's] economy is growing at around 4% per annum, but it could be lower."
Faber added that China's debt is also a serious issue, pointing to a "colossal debt bubble in China" which, in his opinion, "will have to be deflated through either huge losses in the banking sector or losses in the bond market for investors." Faber added that what we're witnessing in China now is "essentially a stock market bubble, which now is being deflated."
Oil prices tumbled below $28 a barrel
Oil prices tumbled below $28 a barrel—its lowest level since 2003—following the lifting of sanctions on Iran. The anticipation is that Iranian oil will be ready to hit the market soon, while other Arab nations are not ready to cut their own oil supply.
Meanwhile, the Iranian oil ministry had issued an order to increase production by 500,000 barrels per day once US sanctions were lifted. Iran currently produces 2.8 million barrels per day and exports more than one million barrels. To make matters worse, China's cool down has caused energy demand from the world's second-largest economy to slow down considerably.
Article continues below advertisement
Return on China-focused Mutual Funds
From January 12 to January 19, the Columbia Greater China Fund Class A (NGCAX) turned out to be the worst performer. The fund was down by 2.7%.
The returns of the Oberweis China Opportunities Fund (OBCHX), the Clough China Fund Class A (CHNAX), and the Eaton Vance Greater China Growth Fund Class A (EVCGX) fell by 2.6%, 2.2%, and 1.8%, respectively. The Guinness Atkinson China and Hong Kong Fund (ICHKX) provided the least negative return of 1.0% during the same period.
With the continuous decline in oil prices, American Depository Receipts of Chinese companies such as CNOOC (CEO) and PetroChina Company (PTR) was down by 3.8% 1.0%, respectively, from January 12 to January 19. During the same period, NetEase (NTES) was up by 0.5% while Ctrip.com International (CTRP) and JD.com (JD) were down by 5.8% and 2.9% respectively.
In the next part of this series, we'll do a closer analysis of China's latest GDP data.